Famous Bis: David Bowie
September 29, 2022
Share
Donate
Whenever friends or strangers or online communities get going talking about their favorite bi people, David Bowie is almost always mentioned in the first breath. The man is more than a rock god; he became a pop icon and cultural legend in his own time. But I have a confession to make: while I've wanted to cover his life in this space for years now, I've been afraid to do so. Why? Because Bowie led such an expansive, creative, full life that I wasn't sure I would be able to do justice to the total tonnage of not only his discography, but his history-changing tenure on this planet.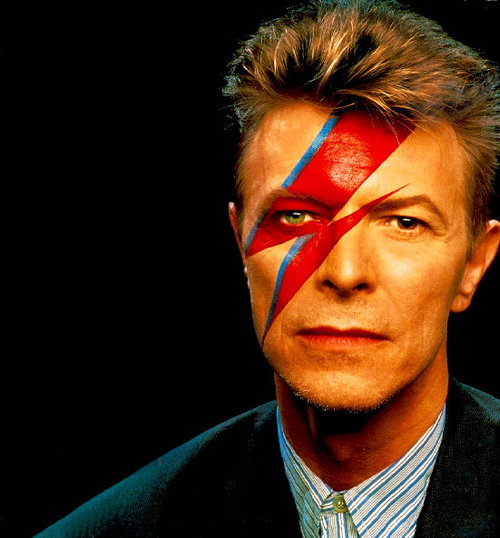 But then I remembered that I don't have to! What I've decided to do here is to give anyone who may be new to discovering that Bow is an O.G. #bicon a sort of sampler on the musician's journey ― a journey that not only changed the course of popular music worldwide but showed him to be, without doubt, one of the most influential artists of the 20th century. There's plenty more to learn about this fascinating figure, but if nothing else, this Famous Bis entry is a good start for our favorite Starman.
Arriving on January 8, 1947, in Brixton, London to mother and retired singer Peggy and father, Haywood "John" Jones, Bowie's birth name was actually David Robert Jones. One of his greatest early influences was Terry Burns, his older half-brother from his mother's side, who introduced him to beat poetry, Buddhism, jazz, and the occult, among other things. Burns and other members of his line suffered mental illness in the schizophrenia family of disorders, which also left an impression on him. After a few moves as a child, in 1955 his family settled in Sundridge Park (part of Greater London).
As he grew up, young David listened to and was deeply influenced by modern music, in particular the works of Elvis and Little Richard. He also started playing the saxophone and experimenting with sound at the age of 13. It was during his teen years when a schoolyard fight over a girl led to one of his most distinctive features ― a punch to his left eye left the pupil permanently dilated and a false impression of a change in the eye color.
Don't worry, though ― the schoolmate who gave him the punch, George Underwood, patched things up and later even recorded some music together. (In fact, Underwood went into design and created some of the album cover work of some of Bowie's best-known covers.)
After his graduation from Bromley Technical School at 16, young David did not immediately find commercial success. He hopped from band to band and eventually recorded a solo album in 1967. Concerned he would be confused with Monkees frontman Davy Jones, he decided to change his surname to Bowie, which stuck with him on a professional front for the rest of his life.
Due to the lack of success he had on the musical front after his debut, Bowie stepped back from music for a time and retreated to and lived in a Buddhist monastery in Scotland before a monk encouraged him to continue writing music. Before re-entering that, though, Bowie decided to create and perform in Feathers, a mime troupe. It was around this time that he met and married Angie Barnett, an American model, in 1970. A year later they had their only child, Duncan Jones (now a filmmaker) whom they nicknamed "Zowie".
In 1972, Bowie entered what is perhaps his best-known era of glam rock with the alter ego Ziggy Stardust, a character who was a bi, androgynous alien rock star who had descended to Earth. The consequent album with his new band, The Rise and Fall of Ziggy Stardust and the Spiders from Mars, launched Bowie into the cultural stratosphere. Stardust, Bowie would later write, as both a mishmash of cultural influences as varied as kabuki theater, Presley, Edith Piaf, German expressionism and Lou Reed and an open-ended question on where rock would go, was both an instant smash and a challenge to conformities of the day, both in genre, style, and sexual expression.
To whit, throughout the Ziggy tour Bowie infamously always ended the night by fellating a guitar ― an instantly iconic image that brought to the forefront and asserted the character's queerness.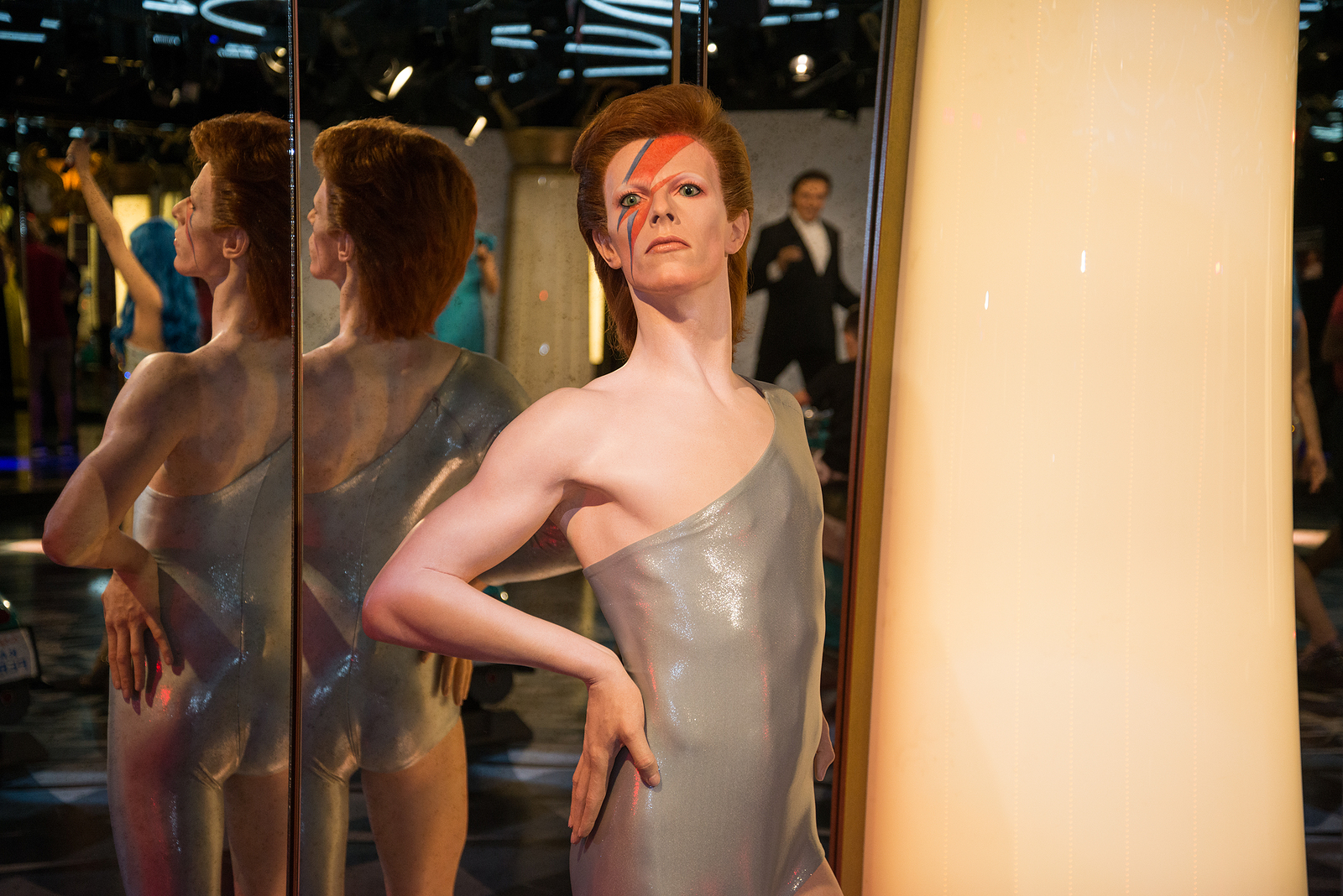 But Bowie's bisexuality was not solely within the confines of his creation of Ziggy, but part of Bowie's experiences himself. In addition to his marriage to Barnett, Bowie also had an affair with Mick Jagger (confirmed by his wife and others), Lou Reed ("Queen Bitch" is about him), moved to Berlin in 1976 in part to be with his trans lover Romy Hagg, among many others. Bowie himself was open about being bi throughout his life in interviews multiple times ― despite facing bi erasure time after time throughout the years. Bowie eventually divorced Barnett and was married to Somalian supermodel Iman for over two decades until his death.
Despite his monumental success with the Ziggy persona, Bowie eventually felt tired and trapped by the character and retired him in order to continue exploring other iterations. This continued throughout his life and albums such as Aladdin Sane, The Thin White Duke, among many others. He enjoyed phenomenal success with many of these transformations, putting out classics such as "Changes," "Heroes," "Fame," "China Girl," "Fashion," "Let's Dance," and "Under Pressure" in a pairing with rock group Queen (headed by fellow #bicon Freddie Mercury.) And with those shifts Bowie felt free to also explore other genres, creating new soundscapes and bringing them into mainstream music to both popular and critical acclaim.
Music wasn't the only creative venture Bowie explored. While he ventured into other creative forms, he also made quite the impact as an actor over the course of his lifetime. Some of his most indelible performances include turns in The Prestige, The Last Temptation of Christ, The Man Who Fell To Earth and a cameo in Zoolander, spoofing himself as a judge on a male model walk-off. But perhaps his most memorable performance onscreen is a personal favorite of mine, as Jareth in Labyrinth. Pretty hard to resist eating a hallucinogenic peach and then waltzing forever with the goblin king, in my opinion.
While Bowie toured up until 2006, he decided to step back from the concert life for multiple reasons. After a heart attack while on tour, he wanted to take it easy and also make sure to be around while his daughter grew up. But what Bowie didn't reveal to the public before releasing his final album, Blackstar ― a bleak but stirring meditation on the themes of mortality ― was that he was fighting a terminal illness for eighteen months. Just three days after its release ― on his 69th birthday ― Bowie died from liver cancer in New York on January 11, 2016. Many considered the album his final gift to his fans, and the album garnered multiple posthumous Grammys.
It is difficult to sum up Bowie's impact on both music and pop culture. His musical transformations inspired the likes of such artists as Madonna, Kanye West, Joy Division, bands in the post-punk movement, LCD Soundsystem, and Arcade Fire amongst dozens of other luminaries. He was awarded with scores of awards and recognition both in his lifetime and afterwards, seeming to only turn down a knighthood (he didn't see the point of it ― how baller is that?) For his transformative work, he was inducted into the Rock and Roll Hall of Fame in 1996. His life was also the source of inspiration for the bi cult classic, Velvet Goldmine.
Bowie's legacy is, as I previously stated, both difficult to sum up and also difficult to articulately describe its breadth of impact on world culture. There are both accolades and allegations and scandals I have not gone into here as I do not have the space and do not want to make this into a hit piece, but as I said previously, there is plenty more to learn about the singer-songwriter both online and in libraries in biographies authorized and otherwise. Again, I deeply encourage any and all readers who are interested in his work and culture to consider this a taster of the storied life and use this entry as a jumping-off point to further research.
Bowie's work as a musician and overall artist transcends genres and tastes and reaches a rarefied place of elevation in the minds of billions of people across the world. What cannot be denied was that he was a deeply influential figure who was and is still deeply, sorely missed. And Bowie was very, very bi.
Comments
Facebook Comments