The Unicorn Scale: My Summer As a Goth
January 05, 2021
Share
Photo credit: Photo/123GoFIlms
Hello there, loyal (and new) readers! In these blustery and chilly months, I sure hope the appearance of a new Unicorn Scale fills you with warmth and joy. I, for one, always feel lighter and happier when I see solid bi representation come across my radar. And sometimes that comes about in the most unexpected ways.

You see, I have a long-running list of ideas and recs for this column, but every once in a while, titles I research (or pitch) fall apart for one reason or another. So when a show I was watching circumnavigated bi representation instead of facing it head-on (grrr), my editor suggested I examine an independent coming-of-age story called My Summer As A Goth.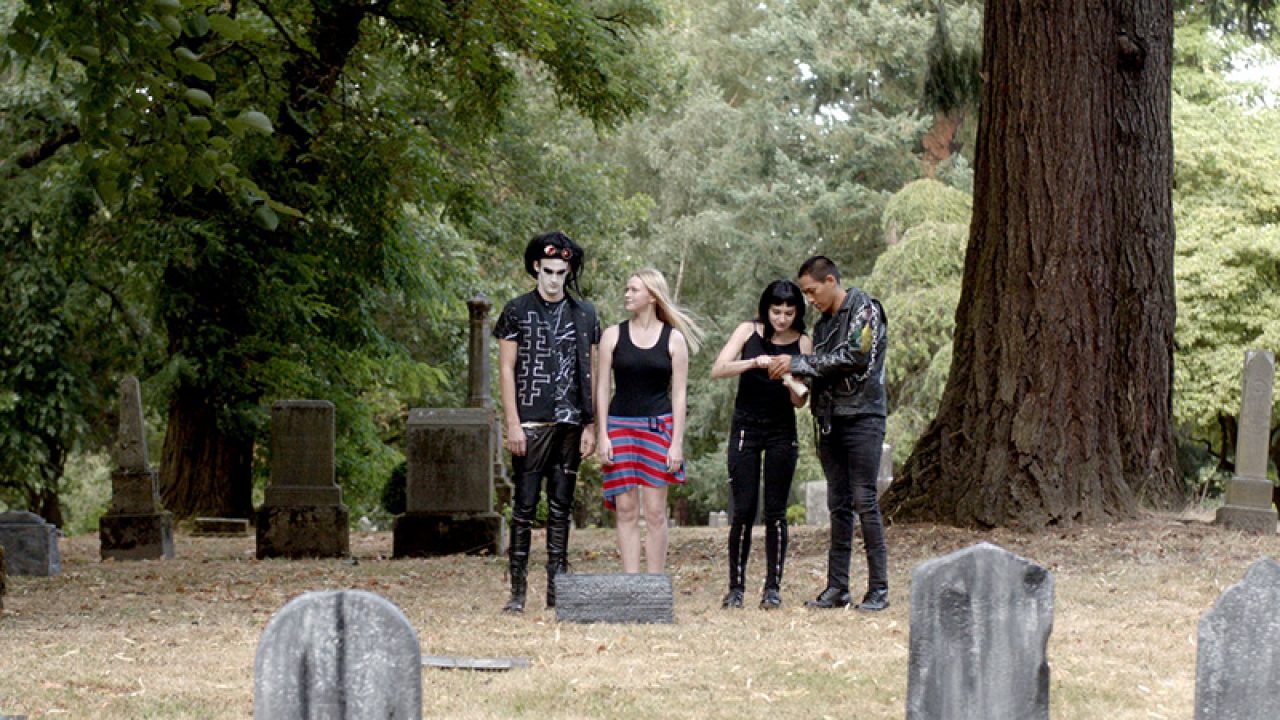 Before I get into all the dirty details (or dive into my disclaimers), I just want to discuss the perfection of that title. Not only is it evocative of tons of high school essay titles, but tons and tons of teenagers either have Goth friends or go through this aesthetic phase themselves — but it's rarely put front-and-center in teenage films. And, on a personal note, it could be the title of my own summer after junior year when I took on acting in my first film, playing a girl named Autumn — a Goth with a surprisingly sunny disposition. (And I became lifelong friends with the teenage cast and crew!)
Suffice to say just reading the title made me smile, so I knew I had to give it a go.
Okay, now that I'm done with my moment of nostalgia, let's roll on into the warnings. First and foremost, there will be SPOILERS for this 2018 teen comedy. I should also probably give some content warnings for drug use (pot), emotional manipulation, and mild violence (fistfights and some displays of knives as threats). Finally, if this is your first time around these parts, I highly suggest venturing over to our metric page first so you know what I'm talking about with the level of representation.
All set? Then away we go!
My Summer As A Goth focuses on the trials and tribulations of Joey (Natalie Shershow), a sophomore that recently lost her father and is forced to spend her summer with her grandparents while her mother is off on a book tour. But the season takes an intriguing turn as she gets to know her neighbor's Goth grandson, Victor (Jack Levis).
What I Liked:
While I was nearly certain Victor would be a bi character I would focus this write-up on (my bi-fi was going off the whole time watching him, and I still think there is some evidence to support that fact), I was surprised and delighted — on a plot and representation level — to discover the bi character was the supportive character, the punk Antonio (Eduardo Reyes). The screenplay does an excellent job in establishing its misdirection to lead the audience into thinking Victor is pulling something shady with someone else while he dates (and, sadly, manipulates and controls) Joey — and he is, but it's not with the person we think. And while Antonio makes a horrible first impression, he eventually gets a touch more fleshing-out which makes him a more sympathetic and surprisingly heroic character.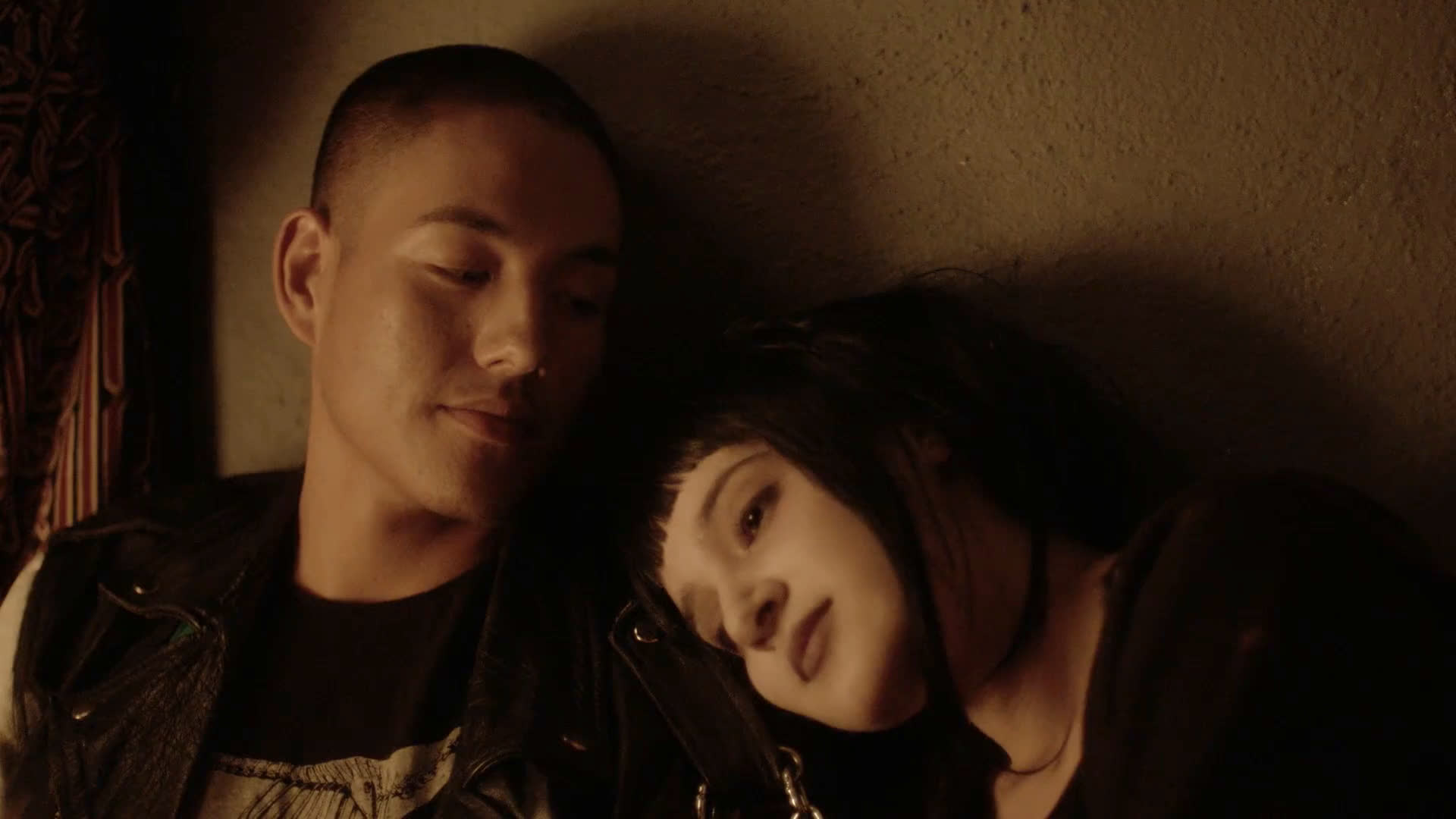 It's also lovely to see a bi+ person of color in an (eventually) romantic role as well — especially one who is clearly comfortable with his sexuality, though he doesn't divulge his leanings to Joey when they first meet. Also, bonus points to Joey for quickly getting with the program and not riding the "I'm so confused" narrative for too long when she realizes Antonio is queer. It's great to see this type of representation in a teen film, helping to normalize bisexuality as the valid sexual orientation it is in mainstream cinema.
What I Didn't Like:
I have been lucky and grateful to be writing for the Unicorn Scale since 2017. However. Year in and year out, I still have the same first complaint with about 95% of the media I review in this space — nobody uses the term "bi"! Yes, we see demonstrations of Antonio's sexual orientation. But for Pete's sake, someone say "pan". "Queer". "Fluid". I'll take any umbrella term — pick a term, any term! Just don't do the "I don't do labels" bit, or I'll slap someone silly.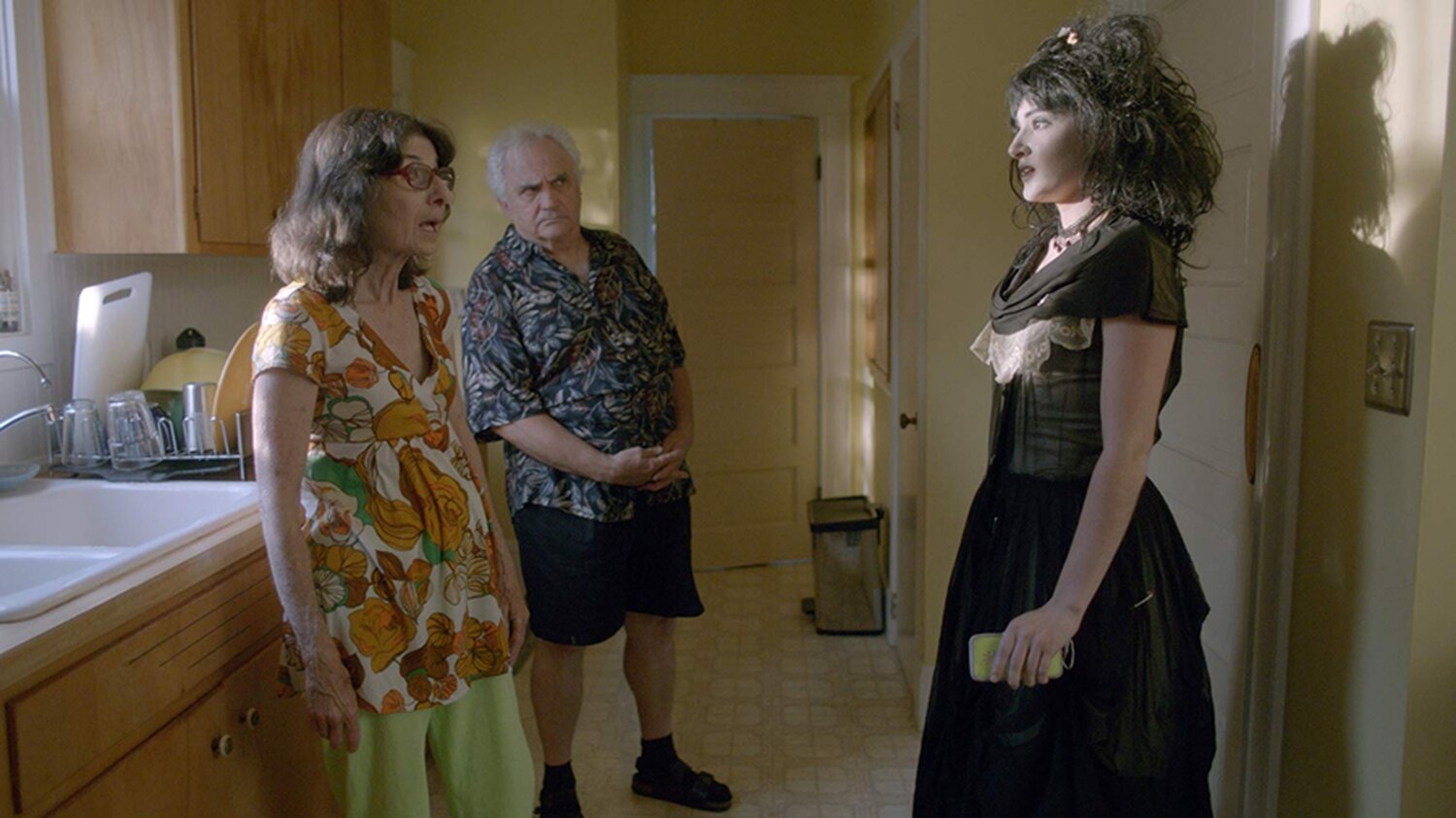 (I won't actually do that — I'm a lover, not a fighter. But that whole line wore out its welcome with me with this column years ago.)
On a different track, while we come to love Antonio, most of his presence in My Summer As A Goth serves as a romantic storyline. I wished there was so much more to Antonio than that. The writers and director worked hard to establish Antonio in the very different punk niche, but then it doesn't go anywhere. Couldn't we have seen more of that dichotomy in approach to life and style, or the friends he hangs out with? I wanted to see Antonio offer more than just an eventual love interest. Maybe there are some missing scenes on a cutting room floor somewhere. At least that's what I like to imagine created such a disservice to this lovable punk.
The Rating:
My Summer As A Goth is a sweet story that explores the adoptions of identity during the painful years of adolescence. And while Joey dabbles in the world of Goth, I appreciate that the film doesn't see Antonio's sexuality as any type of experiment or a phase. While his reveal was a surprise, I would have loved to see him as a character get fleshed out more. Maybe next time, if there's a sequel — my autumn as a punk?
Thanks for stopping by, readers. And until next time, let's make sure to stick to the core message of the film and stay true to ourselves. And remember: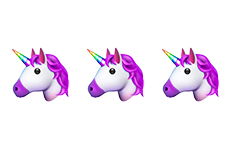 Comments
Facebook Comments