George Gordon Byron, the 6th Baron Byron, known simply as Lord Byron, was an English poet and leader of the Romantic movement.
Byron is regarded as one of the greatest English poets; he was immensely popular during his time and remains widely read and influential today. Among his best-known works are the long narrative poems Don Juan and Childe Harold's Pilgrimage. His sonnet She Walks in Beauty is also quoted frequently to this day.
His love life scandalized society at the time. He had a very public affair with Lady Caroline Lamb. After he ended the relationship, she followed him and even tried sneaking into his house dressed as a page boy. In 1816, she went on to publish Glenarvon, a wildly popular roman a clef about Byron and society.
Eventually, Byron courted and married Caroline Lamb's cousin Anne Isabella Milbanke in 1815. They had one daughter, Augusta Ada (Ada Lovelace), in 1816. The marriage was not happy, and that same year Byron also signed a Deed of Separation.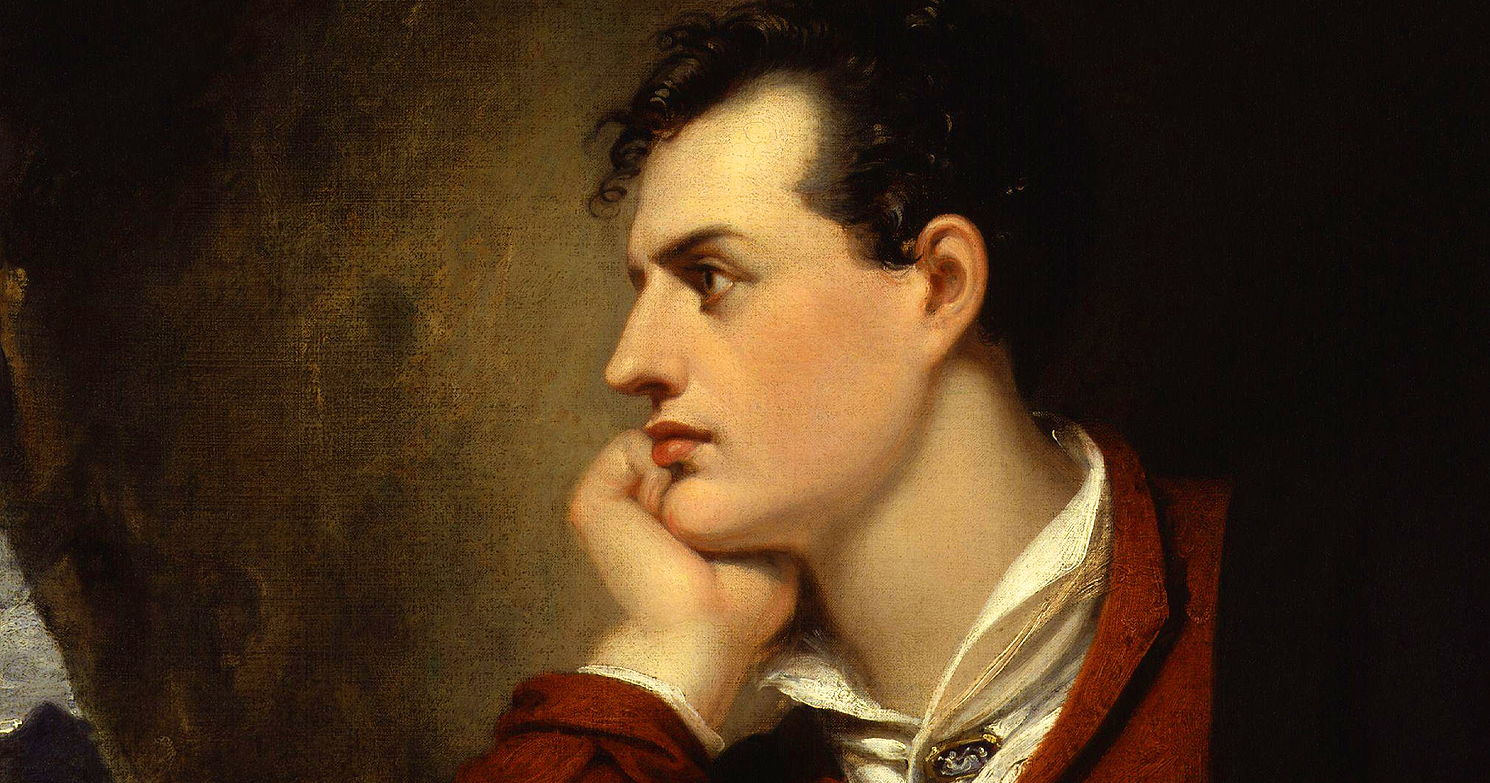 After the dissolution of his marriage, Byron went to Europe, where we would spend the rest of his life. It was there that Byron befriended the poet Percy Bysshe Shelley and Shelley's future wife, Mary Godwin. He was also joined by Mary's stepsister, Claire Clairmont, with whom he had had an affair in London. It was when they were all together that Mary Shelley wrote Frankenstein, or The Modern Prometheus (1818).
Byron is considered to be the first modern-style celebrity. His image as the personification of the Byronic hero fascinated the public, and his wife Annabella coined the term "Byromania" to refer to the commotion surrounding him.[1] His self-awareness and personal promotion are seen as a beginning to what would become the modern rock star.
Biographies were distorted by the burning of Byron's memoir in the offices of his publisher, John Murray, a month after his death and the suppression of details of Byron's bisexuality by subsequent heads of the firm (which held the richest Byron archive).
It took years for biographers to dig deeper into Byron's biography and find abundant evidence of his relationships with men and women. Many of his biographers struggled to find a way to describe his sexuality, saying things like,
Byron's sexual orientation has long been a difficult, not to say contentious, topic, and anyone who seeks to discuss it must to some degree speculate, since the evidence is nebulous, contradictory and scanty ... it is not so simple to define Byron as homosexual or heterosexual: he seems rather to have been both, and either.[2]
Happily, we have a much easier way of saying this. Lord Byron was bi.