George Washington Carver was an American agricultural scientist and inventor who left a lasting impact on the agricultural industry as a whole. Carver is credited with creating and developing hundreds of products using peanuts, sweet potatoes, and soybeans.
Carver was born into slavery towards the end of the Civil War in Diamond Grove, Missouri. After the Civil War and the Emancipation Proclamation, Carver's former owners, Moses and Susan, opted to raise Carver as their own. "Aunt Susan" taught him to read and write.
Since black people were not allowed to attend the local public school in Diamond Grove, George had to go to a school for black children 16 km (10 miles) south, in Neosho — a journey which would have taken over 3 hours each way by foot. Later, he was accepted into Highland University in Kansas, but when he arrived, they refused to let him attend because of his race. In 1890, Carver studied at Simpson College in Iowa and was encouraged to pursue botany after one of his teachers recognized his talent for painting nature. In 1891, he entered Iowa State Agricultural College as their first-ever black student and went on to earn a bachelor's and master's degree. After achieving success and respect as a botanist, Carter returned to teach as the first black faculty member at Iowa State.
In 1896, Carver was invited to head up the agricultural department at the Tuskegee Institute (now Tuskegee University). He taught there for nearly five decades, teaching generations of black students about farming for self-sustainability, the importance of crop rotation, and other agricultural techniques that are still in use today.

While a professor at Tuskegee Institute, Carver developed techniques to improve soils depleted by repeated plantings of cotton. He wanted poor farmers to grow other crops, such as peanuts and sweet potatoes, as a source of their own food and to improve their quality of life.
He became a well-respected and widely recognized scientist, consulted by presidents, congress, and industrialists. He was one of very few Americans of his day to be inducted to the Royal Society of Arts in England.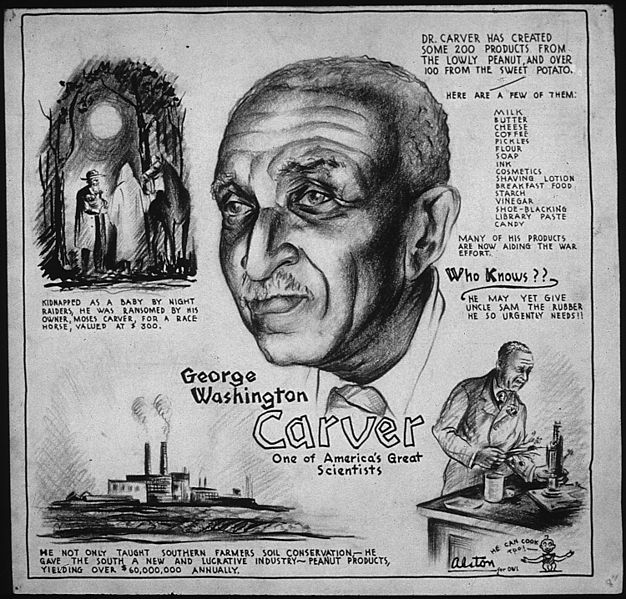 Carver was featured on U.S. 1948 commemorative stamps. From 1951 to 1954, he was depicted on the commemorative Carver-Washington half-dollar coin along with Booker T. Washington.
In 1990, Carver was inducted into the National Inventors Hall of Fame. In 2005, Carver's research at the Tuskegee Institute was designated as a National Historic Chemical Landmark by the American Chemical Society. In addition, many museums, gardens, and schools have been named after this great scientist.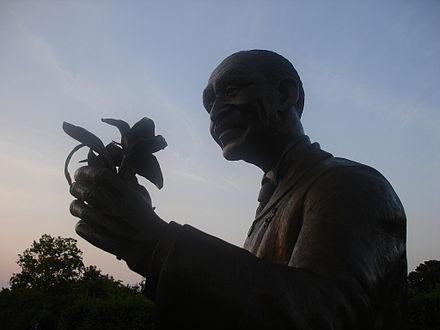 At Tuskegee, he rejected the matchmaking attempts of his friends. At age 40, Carver dated Sarah L. Hunt for three years. Hunt was an elementary school teacher and the sister-in-law of Warren Logan, Treasurer of Tuskegee Institute. The relationship ended when she moved to California. He formed a series of long-lasting friendships with his male students, wrote them very affectionate (although not sexually explicit) letters, and was known to enjoy getting "therapeutic" peanut oil massages from handsome men. University colleagues also claimed he would "horse around" with many men.

From 1934 until his death in 1943, Carver and scientist Austin W. Curtis, Jr. were constant companions. Carver and Curtis would walk around campus at Tuskegee, arm-in-arm on their way to check on their experiments. Carver left all of his assets to Curtis upon his death.