Freddie Mercury (born Farrokh Bulsara) was the lead vocalist and songwriter of the rock band Queen. Regarded as one of the greatest lead singers in the history of rock music, he was known for his flamboyant stage persona and four-octave vocal range. Mercury defied the conventions of a rock frontman with his highly theatrical style influencing the artistic direction of Queen.
Mercury was born in Zanzibar, spent most of his childhood in India, then moved back to Zanzibar. At age 17, he fled with his family from the racial violence that marked the Zanzibar Revolution and settled permanently in the United Kingdom. Mercury was ethnically Parsi, part of the Zoroastrian religious community whose ancestors fled from Persia to India to avoid persecution following the Muslim conquest of Persia over a thousand years ago. In other words, many people can be proud to call Freddie Mercury one of their own.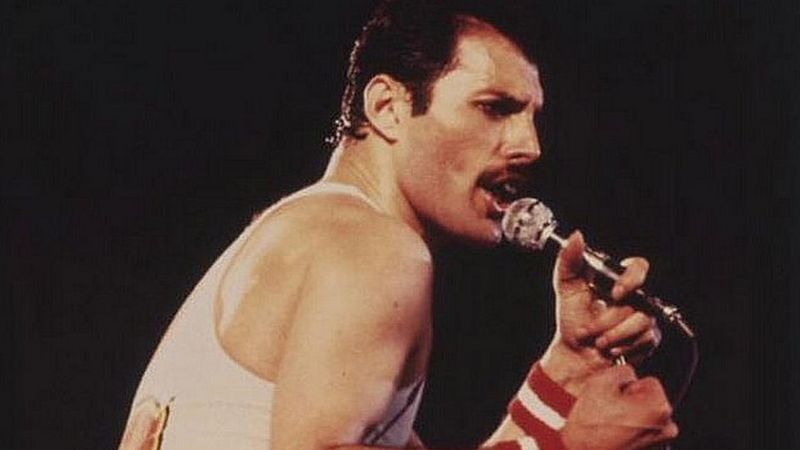 In 1970, he formed the group Queen with guitarist Brian May and drummer Roger Taylor. Mercury wrote numerous hits for Queen, including "Killer Queen", "Bohemian Rhapsody", "Somebody to Love", "We Are the Champions", "Don't Stop Me Now", and "Crazy Little Thing Called Love". He became well known not only for his stellar voice but also for his charismatic stage presence.
As a member of Queen, Mercury was posthumously inducted into the Rock and Roll Hall of Fame in 2001, the Songwriters Hall of Fame in 2003, and the UK Music Hall of Fame in 2004. In 1990, he and the other Queen members were awarded the Brit Award for Outstanding Contribution to British Music, and one year after his death, Mercury was awarded it individually.
Although both Freddie Mercury and Queen actively avoided publicly labeling his sexuality, lest it negatively impact their careers, Freddie Mercury's attractions and behavior were openly bi. His relationships included Mary Austin, to whom he willed his home and the royalties from his music, and about whom he wrote the song "Love of my Life."

Later, Mercury was involved with Barbara Valentin, who is featured in the video for "It's a Hard Life."

In 1985, he began a relationship with hairdresser Jim Hutton that lasted until Mercury's death from bronchial pneumonia resulting from AIDS.
Lesley-Ann Jones, the author of two biographies on Freddie Mercury, spoke with Them about the topic of Mercury's sexuality:
It is still fascinating to me, after all these years, that Queen's management spent decades trying to convince the world that Freddie was heterosexual while he was alive, but then conceded to his homosexuality after he had died. They would not, however, allow for his bisexuality — even though they embraced and promoted Mary Austin (Mercury's longtime girlfriend) as his one true love! All their efforts to preserve Freddie in memory as, effectively, a straight man who was in love with one woman — his soulmate Mary — but who was "corrupted" by factions of the music industry (and wasn't really gay) are ridiculous to me, he was clearly bisexual.
Many people were disappointed to see this bi-erasure continue in the 2018 biopic Bohemian Rhapsody.