The Unicorn Scale: Disenchantment
April 11, 2021
Share
Donate
Photo credit: Netflix
Hey howdy, hey there, Unicorns old and new! I sure hope that the spring weather is awakening the joie de vivre within and not getting hampered by too many allergies. So annoying that plants and pollen trying to propagate tend to make us runny with tears of annoyance rather than joy at the blooming of nature.
After watching the most recent season, I thought it was high time we took a deeper look at the romantic trials and tribulations of Princess/Queen Bean (voiced by Abbi Jacobson) in the Netflix comedic animation series, Disenchanted.
As always, before I get ahead of myself, it's important for me to go over some disclaimers. First and foremost, this review will be chock full of SPOILERS up to and including the most recent season (or "Part," as the show refers to its larger segments). I should also note that there are more adult themes than one might assume would be present when they think of animation (drinking, some violence, etc.). And if this is your first time around these parts, to understand the Unicorn metric I'm talking about, you can find out more about it here.
All good? Faboo. Let's do it.

Disenchantment is a medieval fantasy comedic animation helmed by Matt Groening (of The Simpsons and Futurama fame) focusing on the misadventures of Bean, princess (and later Queen) of Dreamland whose father is bent on wedding her off — despite the fact that Bean, a tavern-brawling adventurer paired with friends Elfo and demon Luci has other plans for her future.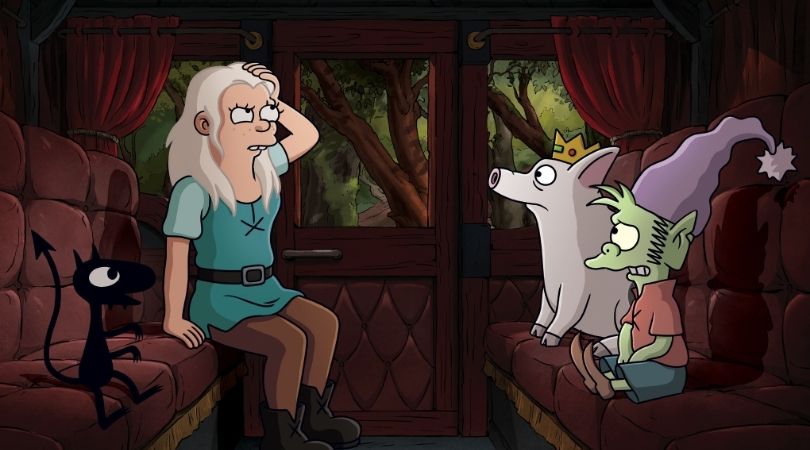 What I Liked:
There's a lot to like about how the show eventually handles Bean's queerness. First and foremost, this is a bi character that is being performed by a bi actress who has already played other queer characters! (That shouldn't be as rare as it is, but that's a discussion for another day.) While this storyline is becoming more commonplace in the TV landscape with live actors, it's still a rarity in the world of broadly distributed animation and worthy of recognition.
The episode "Last Splash" explores Princess/Queen Bean's sexuality and works pretty darn well as a standalone episode for those who are curious about the series but aren't sure if they want to go all in.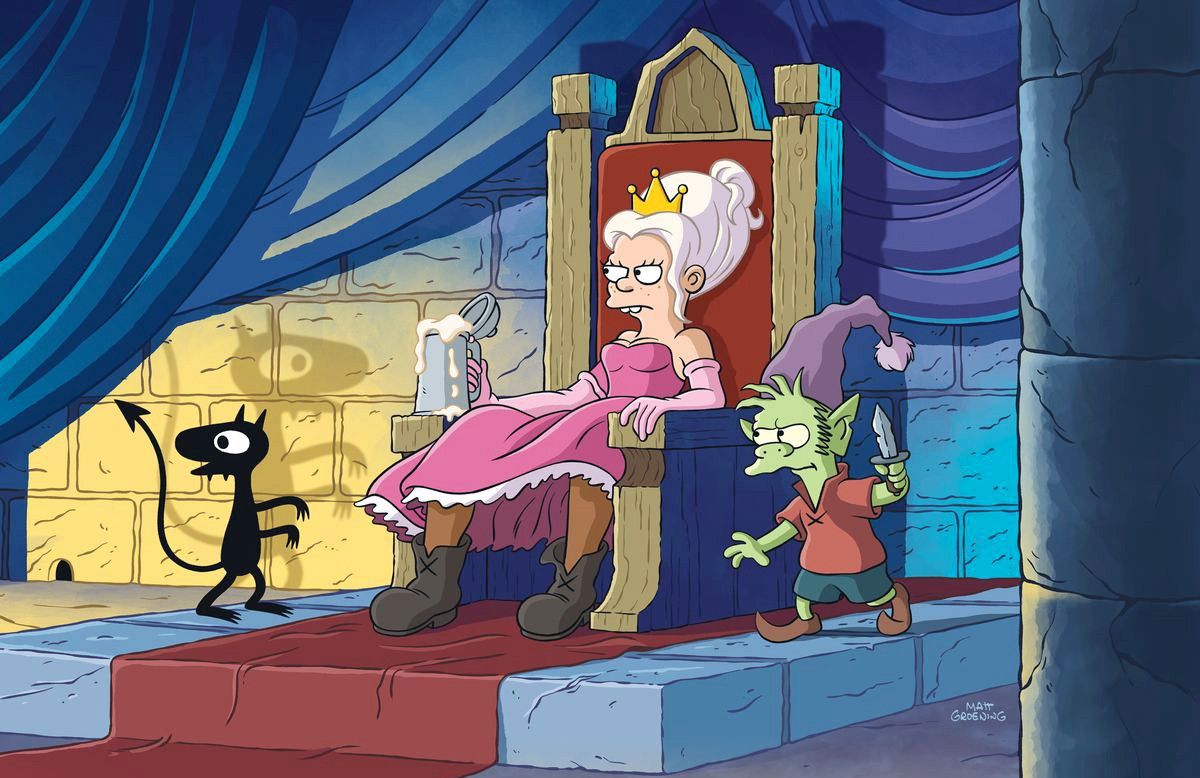 After getting hinted at for multiple parts (including an episode where Bean asks for and receives gentle kissing on her earlobes from a mermaid masseuse), we finally got a show that veers away from seasons of queerbaiting and finally delivers on a same-sex romance for a main character in the episode "Last Splash". I aloved seeing Bean's vulnerability in admitting in her monologue she has never been in love, and all the self-doubt that queer and questioning people and baby bis will recognize all too well.
Bean is a well-rounded character throughout the series, and, despite how little time we get to meet her love interest, so is Mona the Mermaid (voiced by Meredith Hagner). I also appreciate that, while we don't know what happens to Mona right away as her disappearance is more open-ended, she doesn't fall into the wretched #KillYourGays category. (Though maybe I'm hitting Chandler levels of bitterness when it comes to the ending of cartoon characters.)
What I Didn't Like:
This is a rare thing for me to say, but we haven't really gotten any viable male candidates for Bean to be attracted to throughout the series, despite how much of the first part and general plot rests on Bean and who she ends up with. Which I know is sort of the point. She keeps getting set up with and surrounded by dopes. But it'd make it a bit easier to see and demonstrate her queerness for argument's sake. It also really underlines why Mora stands out to her; someone who listens to her without agenda and doesn't have some sort of motive to get out from her other than killing time while they head on a boat towards home.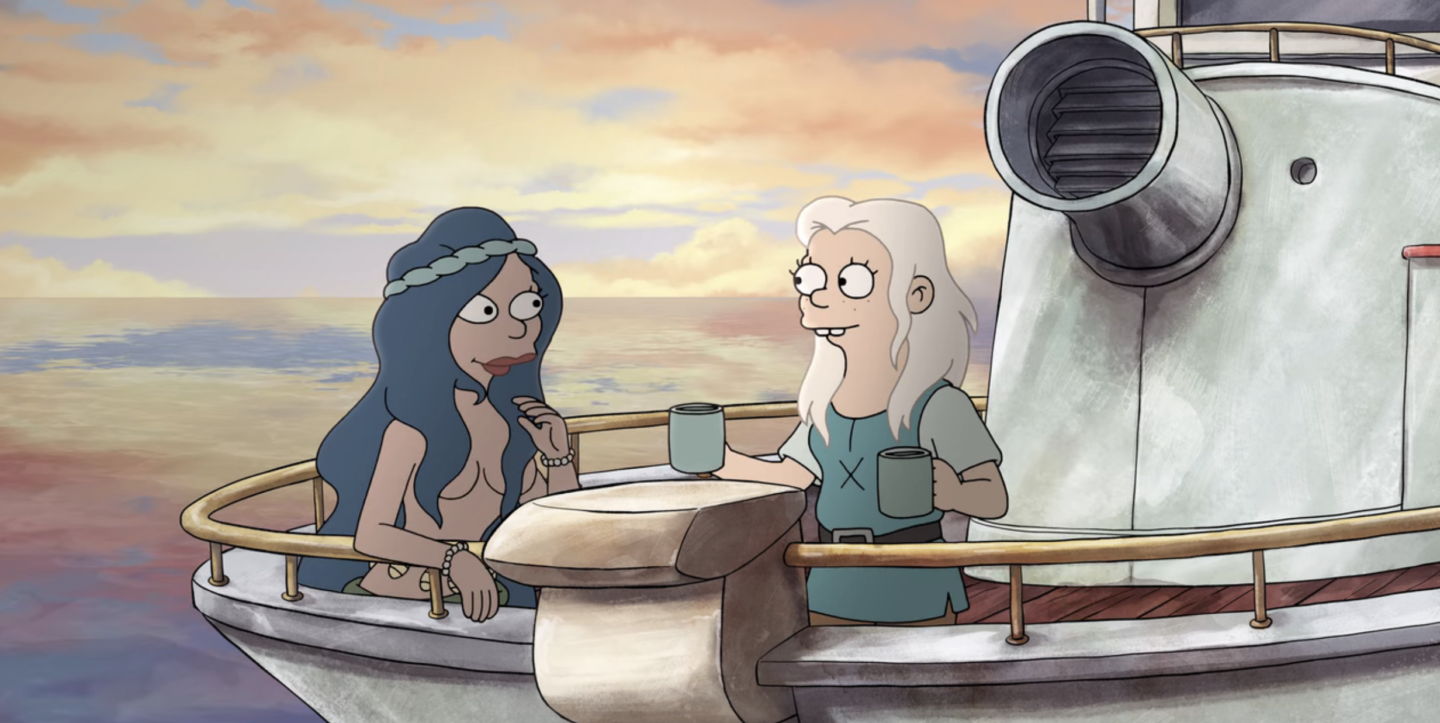 While this doesn't fall under #KillYourGays and I'm all for a good cliffhanger, I'm quite annoyed this storyline left us with Bean doubting her interlude and mourning what she could have had. I love a good example of dramatic irony, but … Let's put it this way. Torturing your characters is one thing for a good story. But that has to be handled especially carefully when you're dealing with rarely-seen, underrepresented stories of a marginalized demographic.
Am I arguing on behalf of a character that exists only on paper? Yes. But what kind of message does this send to those still learning about their own sexuality? They doubt themselves enough. The bittersweetness to us will just taste like the metallic lemon of an uncooked potato to them. And they deserve far better than that.
And yeah, as always, surprise surprise, Disenchantment doesn't use the term bi. "But Jennie, this is a medieval fantasy show." Sure. But riddle me this, strawman! If they can introduce killer robots and Steamland with all of its steampunk aesthetics, they can certainly fit the term in there somewhere. Instead, all we get is poor Bean's griping about a love she was unjustly denied. Boo, hiss, tomatoes.
The Rating:
"Last Splash" as an episode is about as sweet of a story as this world can muster. But due to the denouement, I'm left wanting so much more. I sure as shit hope Bean finds her starfish necklace, that Mora's serenade turns prophetic, and they meet up again. I'll wish it on the mermaid's heart star.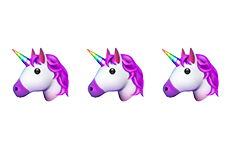 Comments
Facebook Comments