Famous Bis: Gottfried von Cramm
March 19, 2023
Share
Donate
Photo credit: Pexels/Pixabay
He was called the Baron, not solely because of his heritage, but because he was courteous on the court, well-mannered, and exceptionally attractive. Throughout his career, he won the French Championships twice, and reached the final of a Grand Slam singles tournament five times; in 1937, he was ranked the number 1 tennis player in the world, and 2nd in both 1934 and 1936. He also won the French Championship and U.S. Championship doubles in 1397, and Wimbledon's mixed doubles in 1933.
Born on July 7th, 1909, in his family's home Castle Nettlingen in Germany, Gottfried Alexander Maximilian Walter Kurt Freiherr von Cramm was the third of Baron Burchard von Cramm's seven sons. As a young child, von Cramm had a minor accident when he offered a horse a sugar cube, and the horse bit off the top of his index figure when trying to eat the cube. After recovering from this incident, he began playing tennis at age ten on his family's estate. Little is known about his childhood; as an adult, he would go to great lengths to distance himself from his family's wealth, insisting that nobody use his official title or full name. In 1930 he married his childhood sweetheart and best friend, Baroness Elisabeth "Lisa" von Dobeneck, who he would later say he "loved forever".
As Nazism continued to tighten its grip on Germany in the late 1930s, von Cramm found himself increasingly resisting efforts made by others to turn him into an image for Nazi propaganda. After all, he was tall, handsome, white, and blond — the perfect specimen of Hitler's Aryan ideal. Whilst the German government continued to pressure its athletes to show German superiority at various worldwide sporting events, von Cramm continued to hold fast in his determination to not be affiliated with Nazism. In a small yet brave act at the 1935 Davis Cup Interzone Final against the USA, he told the umpire that the ball had tipped his racket, which resulted in a penalty point that cost Germany the game.
After the match, the German captain berated von Cramm for his admission, calling him "a traitor to the nation". Calmly, von Cramm replied,
Tennis is a gentleman's game, and that's the way I've played it ever since I picked up a racket. Do you think that I would sleep tonight knowing that the ball had touched my racket without my saying so? On the contrary, I don't think I'm letting down the German people. I think I'm doing them credit.
No one else (including his opponent) had seen this supposed error of the ball tipping the racket, leading the Nazi government to believe it had been a deliberate attempt to embarrass Germany on the world stage. Two years later, at the Davis Cup, he played against the USA once again in a deciding game. Before the match began, his opponent Don Budge recalled von Cramm having to take a phone call, from which he returned pale and shaking. "Excuse me, gentlemen, it was Hitler," he told them "He wanted to wish me good luck."
The match became legendary for its intensity, with multiple first-hand accounts claiming that von Cramm seemed to be playing for his life. Unfortunately, he lost the game to Budge.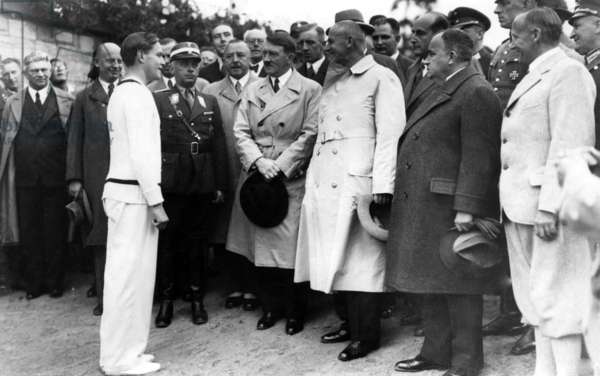 Von Cramm would soon face turmoil in his personal life, not just on the court. In 1937 he divorced his wife, later claiming she had been unfaithful. This finally gave the German government the opportunity they desired to make an example out of von Cramm. It had become known that von Cramm had had a brief fling with actor Manasse Herbst, who then began to blackmail von Cramm for money to keep the affair private. Though it is uncertain how the relationship became public knowledge, upon his arrest in 1938, von Cramm admitted that it was true. Since he admitted his "guilt" for the "crime" of homosexuality, he was sentenced to a year's imprisonment.
Due to von Cramm's social status as the son of a baron and his popularity with the public, he was given a shorter sentence and was not sent to a concentration camp like many other openly queer men under the Nazi dictatorship. Still, his international tennis friends rallied in support of his freedom. Don Budge collected signatures from many notable tennis players for a petition he sent to Hitler himself. Even King Gustaf V of Sweden made a plea to the German government for his release. Eventually, von Cramm was released after serving just six months into his sentence.

Unfortunately, von Cramm would not enjoy his freedom for long. In May 1940, he was conscripted into the German army and sent to fight on the Eastern Front, where he and his company battled the enemy and relentless snow. Eventually, von Cramm was flown out of the frontline with severe frostbite, one of the few of his company to live through the conditions. After medical treatment, he was dismissed from service — likely due to his injury, his homosexuality conviction, and his refusal to swear loyalty to the Nazi party.
The years spent at war robbed von Cramm of a far longer career, costing him the finest years of his physical well-being. However, this didn't stop him from returning to the sport after the war. He won the German National Championship in 1948 and 1949, and finally retired from professional play in 1953.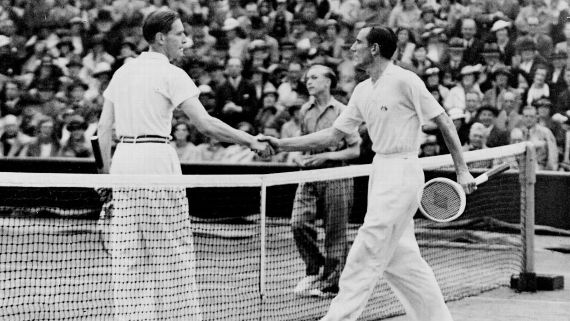 After retiring from professional play, von Cramm began working as an administrator for the German Tennis Federation. As the years went by, he became somewhat of a successful businessman importing cotton and also married longtime friend Barbara Woolworth Hutton, a wealthy heiress, in 1955. However, the marriage lasted only four years, with von Cramm eventually divorcing Hutton as he felt he could no longer help her with her alcoholism and depression. Interestingly, he was her sixth husband, and she had previously been married to Hollywood legend and fellow bi Cary Grant.
On November 8th, 1976, von Cramm and his driver were involved in a fatal car crash whilst on a business trip in Cairo, Egypt. He was 67 years old. The following year, von Cramm was inducted into the International Tennis Hall of Fame as a mark of respect and a way to honor his contribution to tennis history, where his plaque reads, "Most remembered for a gallant effort in defeat against Don Budge in the 1937 Interzone Final at Wimbledon."
By all accounts, Gottfried von Cramm was a true gentleman, with not a bad word said about him that I could find in my research. It appears to me that many sportsmen of today could learn from his grace and decorum, and should prove a role model to us all.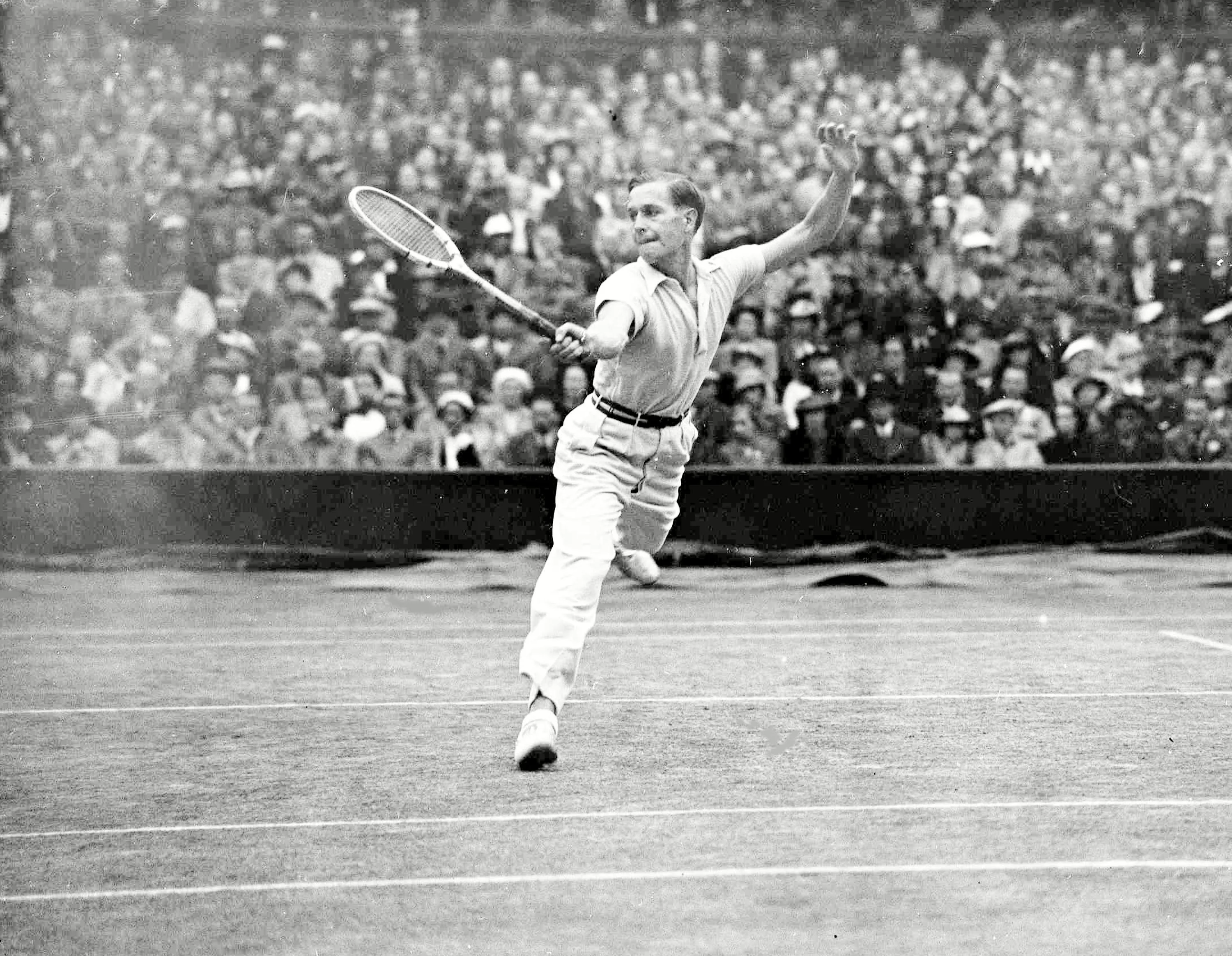 Comments
Facebook Comments