Bi Book Club: Where Am I Now?
December 27, 2019
Share
Donate
Photo credit: Pexels/Pixabay
There is an inescapable science to the nature of clickbait headlines. As annoying as they are, they are precisely tailored to pose a question you have already been asking yourself in moments of idle passing — and their perfectly situated link at the bottom of an old Roger Ebert review promises you the answer you're looking for. One of the most pressing and persistent questions for the past few generations of consumers of pop culture has to do with people from our youth — usually actors or the subject of a major news story of the time.
Mara Wilson of Matilda (1996) plays with that very notion and subverts it with her 2016 memoir's title, Where Am I Now?, ripping it from the sidebars of our social media platforms and placing it as an existential question about herself. Wilson's book snatches back the narrative that has hounded her since her days as the child star of classics films like Matilda and Mrs. Doubtfire (1993). Helming a varied career since her childhood as a Twitter darling, voiceover actress, and prominent contributors to podcasts, the book focuses on the specific coming-of-age pains that come from escaping life as a Hollywood starlet while still grappling with growing up.
Please note: This review may contain some minor spoilers for the memoir. So if you haven't, please make sure to go purchase the book and support a queer artist (or, if you're financially unable to do so, you can pick up a copy at your local library).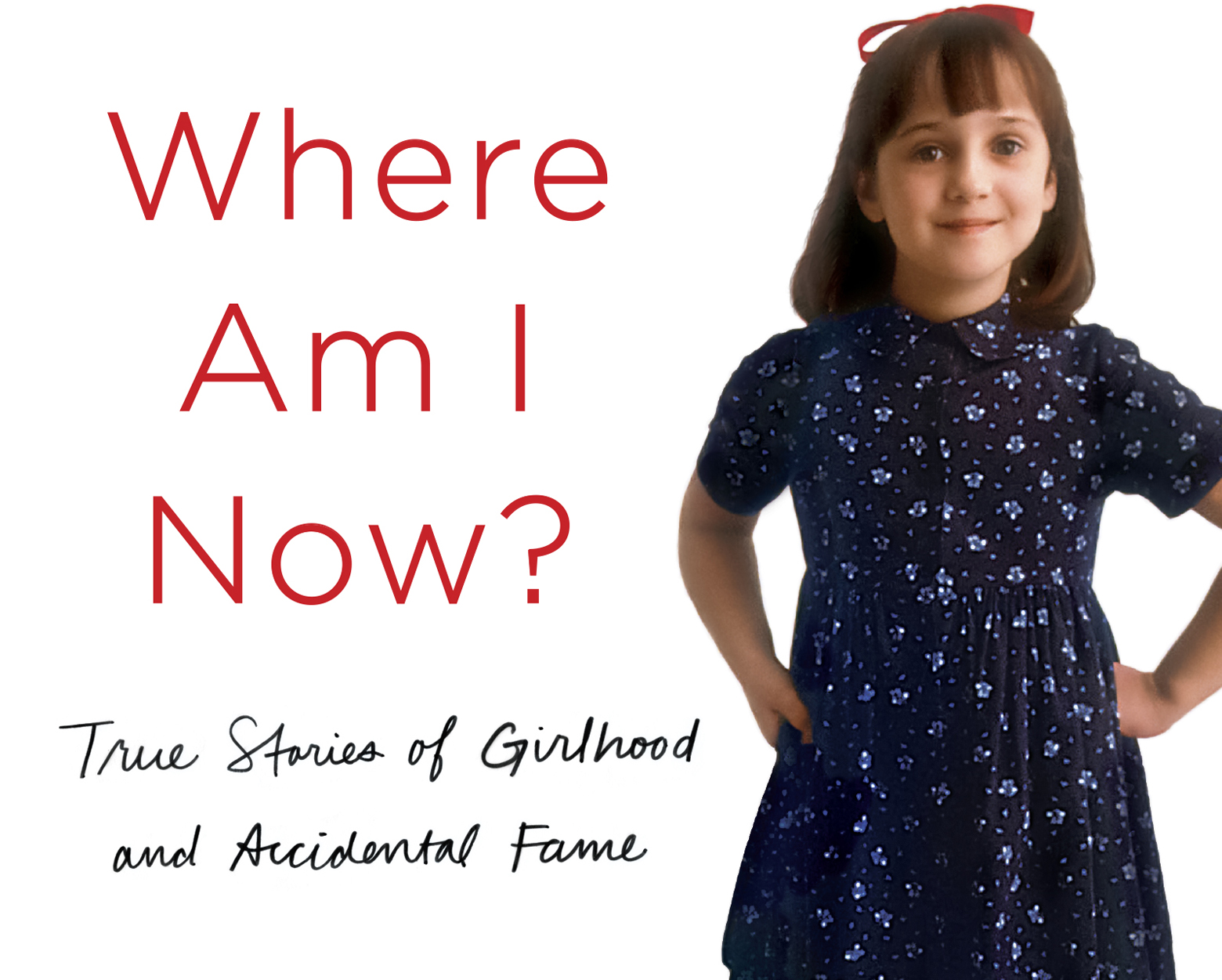 Wilson's book came to my attention after following her hilarious Twitter feed for a while — where she famously came out as bi after the shooting at the Pulse Club in Orlando to show solidarity with the LGBTI community. I wondered if she discussed any of her grapplings with her sexuality in those pages, so I decided to pick it up.
Recently I've been talking with friends and family about writing these book reviews, and there seems to be a pretty consistent question when the book is nonfiction from a celebrity like Stormy Daniels or Wilson here: "Yeah, but do you think she really wrote it?" Look, I'm fully aware stars hire ghostwriters to help retell the story of their lives, and I am not going to look down my nose at them. Writing is hard. Damn hard. And if it isn't someone's natural forte, it can be a daunting task; I won't fault someone in asking for help. But with Wilson's book, as with Daniels', it's clear from the onset she has been a storyteller and writer her entire life. This goes beyond embarrassing details of Wilson's life divulged here which publicists love to disseminate because it shows she's "just like us". There is a consistent tone and personality throughout her various chapters — all flush with the bon mots we've come to appreciate from her Twitter account— that would be quite difficult to imitate as a ghostwriter trying to get things right from her perspective.
But more importantly, I think there is sometimes some coded bi erasure which stems from the asking of the validity itself. No one has ever doubted if I'm reaching to come to a conclusion of bi representation in a nonfiction review. But any time I've written about someone telling their own story, their own queer experiences, in this space, someone always tends to think it's up for questioning. Food for thought.
Anyway, I digress.
Where Am I Now? tackles a variety of chapters of Wilson's experience growing up on and off the studio lot. And while often her experiences or observations go through the filter of someone who has been tinged with that specific viewpoint, it does not solely focus on her film exploits — to a reader's great delight. Wilson writes with incisiveness and wit at every turn, talking about topics as various as first loves, mean girls, coming to terms with her mental illness diagnoses — and that's just from a selection of a few chapters. There is such a preciseness to her descriptions and the way a child thinks and rationalizes at certain ages that it took me back to my own childhood and how I thought through big issues myself.
Truly, Wilson shows herself to be a master storyteller, pulling her chapter structures from examples as varied as the Moth to the likes of David Sedaris, taking readers on everything from touching, emotional journeys through to hilarious and relatable situations — knowing exactly the audience she is talking to, and "who gives a shit" about what she has to say.

I should note here Wilson's memoir was published before she came out, so in the pages she often asserts herself as a straight woman and mostly talks about her attractions to men. But for close readers, there are hints within the collected stories about Wilson's queerness if one is paying attention; she does know and use the term to describe a friend, talking about what she finds most attractive in a man (emphasis mine), and multiple descriptions of suppressing her own sexuality (if not her orientation). These internal struggles, I've noticed, are incredibly common for bi folks as we grapple with our own internalized biphobia; Wilson had the added pressure of doing so while being a household name and discussing her life. I have nothing but empathy for that set-up.
At any rate, Where Am I Now? showcases not only Wilson's writing talents, but also how universal many of our experiences growing up really are — as bi kids and just as people, whether or not it involves watching cult classics or acting in them. I recommend the book to anyone who survived childhood and has a semblance of a sense of humor. Because while the clickbait articles may think they know where Wilson is now, she knows better than anyone — and she sure knows how to tell you about it.
Comments
Facebook Comments