Bi Book Club: The Stone Age: Sixty Years of the Rolling Stones
July 25, 2023
Share
Donate
Some music feels like it's been around forever, and yet remains timeless. My dad has always been a lover of what's now called "classic rock". He was around when the genre first came screaming onto the scene (he even told me about the time when he got to see Hendrix, Bob Marley, and the Wailers before they hit it big). So of course the Rolling Stones have always featured prominently in the soundtrack of my upbringing, with Mick Jagger's sneer of a voice and Keith's unmistakable melodies forever ringing off the walls of my childhood home. When I got a little older and was nannying, I always had Forty Licks stuck into any CD player of my car as I chauffeured my six-year-old charge around.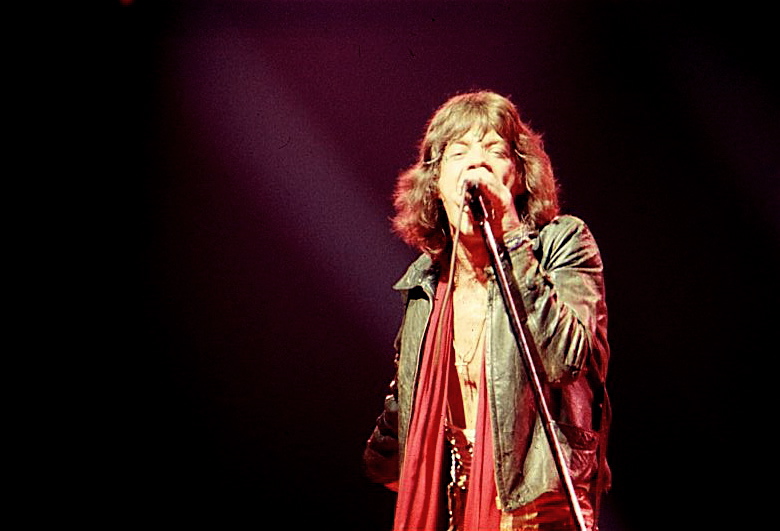 So a few years later, when my first serious boyfriend and I went to a midnight re-screening of Labyrinth (1986) that started off with the music video of Jagger's collaboration with David Bowie for "Dancing In the Street", I thought I knew what I was in for. I did not. Trench coats whipped around, hips gyrated, and the musical body language made it very clear even to my youthful baby bi self that there was some serious sexual tension between these two juggernauts of rock. The audience knew and loved it, too — including my boyfriend who, during a close-up of them singing inches away from each others' faces, yelled "Now kiss!"
I knew at that point that Bowie was bi. But somewhere in all the replays of albums and tracks, it had never occurred to me that Jagger could be bi, too! Well, that very discussion features heavily in Lesley-Ann Jones's comprehensive group biography The Stone Age: Sixty Years of The Rolling Stones (2022), delving deep into the legendary band that just can't get no satisfaction.
Before I dive into the dirty details, there will be SPOILERS for discussions of the lives of the Rolling Stones members featured in the book.
To begin, I'd like to give an overview on Jones's take on these titans of modern music. Jones is a respected rock journalist but also comes from a tabloid background, which sometimes comes through in the way she asks questions about why the Stones said or did certain things. While she always supports her suppositions with decent evidence, at times it feels like she's trying to explain away some bad behavior (like Brian Jones's conduct before his death, the band going to Altamont within two days of his funeral, Bill Wyman's marrying a teenager, etc.). But explaining things doesn't excuse them (which Keith Richards essentially says at one point in an interview with regard to abusive behavior towards his girlfriends).
Jones herself even puts into writing an apology for her part in some of the wreckage regarding Wyman's involvement with his child bride, since she knew of their early involvement and didn't say anything, and acknowledges her complicity in that part of the abuse. But a recurring theme throughout all the quotes from the musicians is not apologizing for bad behavior. In a sense, this is to be expected from the O.G. bad boys of rock'n'roll, but it's disappointing nonetheless when one takes in the total tonnage of their misdeeds over hundreds of pages.
Stone Age is exhaustively well-researched. It's clear Jones put in years of work — even tracking down sources as far-flung as Colombia and living off the grid to get the scoop on what really happened in certain historical events. There's enough here to satiate even the most fervent and fastidious Stones fan, covering everything from when the fledgling band opened for Little Richard to a timeline of events, fact-checked list of which women (and men) all the Stones are confirmed to have bedded, little-seen quotes from other musical stars of the time, and much more.
As to Jagger's bisexuality, the answer is right in the first chapter, where Jones casually mentions that Jagger has bedded a number of men as well as the thousands of women in his sexual history. She notes multiple times that Jagger's womanizing seemed to stem from a place of insecurity about his bisexuality, and noting the androgyny of that era's music scene allowed for rumors to persist — rumors that Jagger has never himself denied.
His infatuation with Bowie in the late '70s is supplemented by the bi partners he had (Marianne Faithfull and Anita Pallenberg), his homoerotic fantasies about bandmate Richards (whom he also slept with — again, neither have denied this), and his dalliances with bandmate Mick Taylor. Jones quotes Playboy Playmate Bebe Buell and backing vocalist Ava Cherry on the orgies Bowie and Jagger would invite them to, with participants of both sexes — whomever they felt like playing with at the time (Oh, to be a fly on that wall …). In the end of Stone Age, Jones even cheekily adds, in a list of Jagger's lovers, a subcategory of "...plus any number of nameless groupies, and these men", including a handful I haven't even mentioned here. While Jagger never uses the term to define himself, his behavior is clearly bisexual.
Stone Age is a meticulous, complicated recounting of the trials and tribulations of the world's longest-running rock'n'roll band, still touring over 60 years after their formation. At times almost a work of Stones apologia, and in other sections a no-punches-pulled exposé, Jones successfully fleshes out a portrait of a trailblazing, if polarizing, legend of music. And makes damn sure that we know Jagger is bi.
With Stone Age, if you're looking for Jagger to use the term bi to describe himself, well… you can't always get what you want, but if you try sometimes, you just might find you get what you need.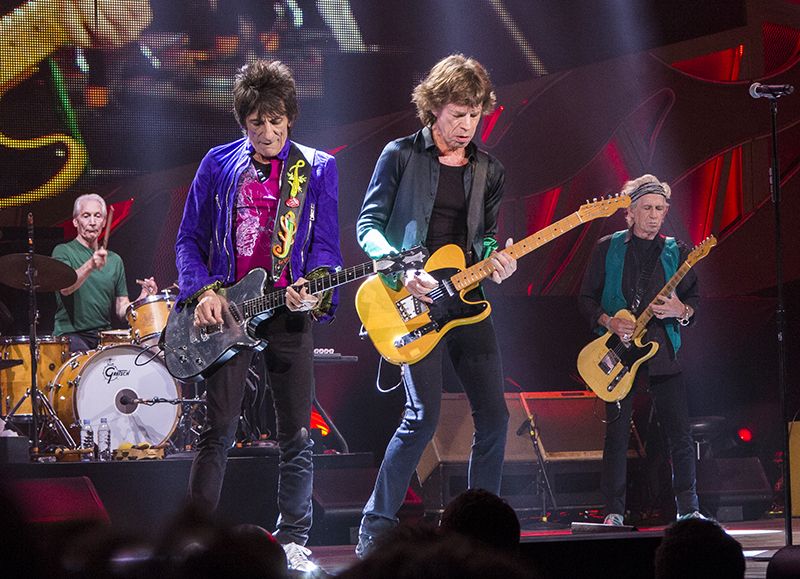 Comments
Facebook Comments