Bi Book Club 2017
January 07, 2017
Share
Donate
I thought it would be fun to make a "bi book club" list, something that offers both fiction and non-fiction options for the bi reader looking for more content that reflect their lives. I figured I'd draw on my knowledge and that of my friends to create a book of the month list and then we could all read through them together. I was surprised at how difficult it was to compile this list. I thought, hey let's make a quick book club style reading list. In fact it's taken me and most of my social circle a more days than I care to mention to put this together. I had an especially hard time finding fiction that wasn't Fantasy/Sci-Fi or Young Adult (not that there's anything wrong with any of these genres) that had fully formed bi characters just living their lives. Here is our reading list. I hope that it inspires you to look for more bi friendly literature and if you're creative, maybe it will fire you up to write some.
January
Full Service: My Adventures in Hollywood and the Secret Sex Lives of the Stars (2012) is Scotty Bowers's trashy tell all about his life as a party bartender to the stars in the 50s. Part of his job included arranging sexual encounters for his high profile clients. This is not a classy read, but it is certainly an entertaining look at what it meant to be non-heterosexual and famous in mid-century America.
February
It's easy to get bogged down and feel like you aren't bi enough, or that your bisexuality somehow doesn't fit the mold. We are all unique individuals, and Purple Prose (2016) does a great job of emphasizing that. Kate Harrad created an accessible collection about bi folks by bi folks. It highlights the diversity of people's bisexual experiences and celebrates that diversity. This is a great read when you feel like you need an extra boost and is also a wonderful book to give people who only know the stereotypes about bisexuality.
March
If you haven't yet read Alice Walker's The Color Purple (1983), now is an excellent time to do so. It is easy to think that our conversations about intersectionality are new, and the terminology around it is. However, this book does an amazing job looking at the intersection of race, class, sex, and sexuality. Not only is the character Shug bi, so is the author. This book also made Alice Walker the first woman of color to win the Pulitzer Prize for Fiction.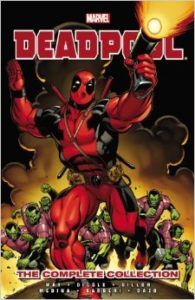 April
For a more lighthearted jaunt, why not try a comic book? Fans will disagree with me no matter what I write here, and please feel free to offer other suggestions, but X-Men Origins: Deadpool #1 is an easy place to start if you just want a quick overview to see how you feel about the character. If you're ready to go all out, I'd start with Deadpool by Daniel Way: The Complete Collection. Either way, you'll find a witty, clever antihero who is clearly attracted to men and women and not remotely conflicted about it.
May
Dive into Mary Renault's epic historical fiction novel Fire from Heaven (1969). This is the first installment in her trilogy about Alexander the Great. In that time and place, bisexuality was a fact of life, and Mary Renault has no problem depicting it as totally normal. Alexander and many others have relationships with men and women, and it is not the whole point of the book. Instead, there's intrigue and world domination.
June
For those of you who missed Stieg Larsson's Millennium Series (2005-2007) a few years ago, now's the time to dive back in. These noir-ish novels have been turned into to hugely popular film series as well. They follow a journalist, Mikael Blomkvist, and a hacker, Lisbeth Salander. Both work hard to punish men who are abusive towards women. Lisbeth also happens to be bisexual, which is kind of refreshing. She isn't anguished because she's bi, she just is. Although terrible things have happened in her life, these did not happen because she was bi. She is not being punished for her bisexuality, nor does she regret it. This is still surprisingly a rare thing and an oddly pleasant surprise in a pretty dark novel.
July
Are you ready for a light-hearted summer read yet? Why not give Tommy's Tale (2002) by fantastic bi actor and author Alan Cumming a try? Although not a memoir, he fully admits that some of the events and the ethos are autobiographical. It might not be a life changing work of art, but it is certainly an amusing read about one young man's journey to adulthood.
August
For another warm summer read, try Fried Green Tomatoes at the Whistle Stop Café (1987) by Fanny Flag. This is an amazing intergenerational story that explores the power of female friendship and love. The book is sweet, funny, occasionally tragic, and filled with hope. Even though they never say the word, Ruth is clearly attracted to both men and women. Even though a lot happens in her life, her attractions don't seem to cause any internal conflict.
September
Lisa Diamond's nonfiction book "Sexual Fluidity: Understanding Women's Love and Desire" is inspiring and fascinating. In it, Diamond explores groundbreaking research about the nature of female sexuality. (She has since confirmed that male sexuality is also far more flexible than most previously assumed). The scholarship backs up the lived experiences of many people. More importantly, it has helped an entire generation understand that sexuality need not be black and white, nor must it be 50/50. The gay/straight binary doesn't serve us. It's ok to embrace our attraction patterns, to feel proud about them, without worrying about how they fit into societal preconceptions.
October
Try this YA by bi author April Sinclair. Coffee Will Make You Black (1994) was named Book of The Year (Young Adult Fiction) by the American Librarian Association. It follows Stevie, a young queer woman, learning about her sexuality in the 60s. She explores the range of her sexual desires and at one point dates a bi woman. Even though the book is 20+ years old and set in the 60s, a lot of its themes remain relevant today, especially how it navigates the complexities of being female, queer, and black in America.
November
The holidays are coming, and sometimes it can be tough to deal with family. The Bisexual Option by Fritz Klein is a nice way to confirm what you already knew: bisexuality does exist. It's an approachable read that lays out some of the science around bisexuality. Although some of the pop culture references are a little dated, it is very easy to understand. This also makes a great gift for family members who have more questions than you feel equipped to answer about bisexuality.
December
Daisy Hernandez's incredible A Cup of Water Under My Bed (2014) describes her life growing up in her Cuban-Colombian family. She talks about the lessons the women in her family taught her about being a woman and about her own bisexuality and how she finds herself and community.
As said, this wasn't an easy list to assemble. Please feel free to comment with other amazing books featuring bi characters. I know that there is quite a bit of YA Fiction coming out with bi characters and that is something I'd like to explore more. It gives me hope that maybe our future is brighter than our past. Happy New Year and Happy Reading, all.
Comments
Facebook Comments