The Unicorn Scale: Schitt's Creek
January 29, 2019
Share
Greetings, readers! So it's that time again. That time when a show gets talked about so much in bi+ circles, I could have sworn we already did a Unicorn article on it. It happened before with #bicon Rosa Diaz (and Stephanie Beatriz) in Brooklyn Nine-Nine. And lo and behold, here we are again with everyone's favorite Canadian cult comedy show du jour, Schitt's Creek.
Schitt's Creek centers on the Rose clan, a vain and pampered family suddenly stripped of all their assets except one – a town they bought as a joke. With no money and nowhere else to go, they decide to move to this investment in the sticks to see if they can build themselves up again.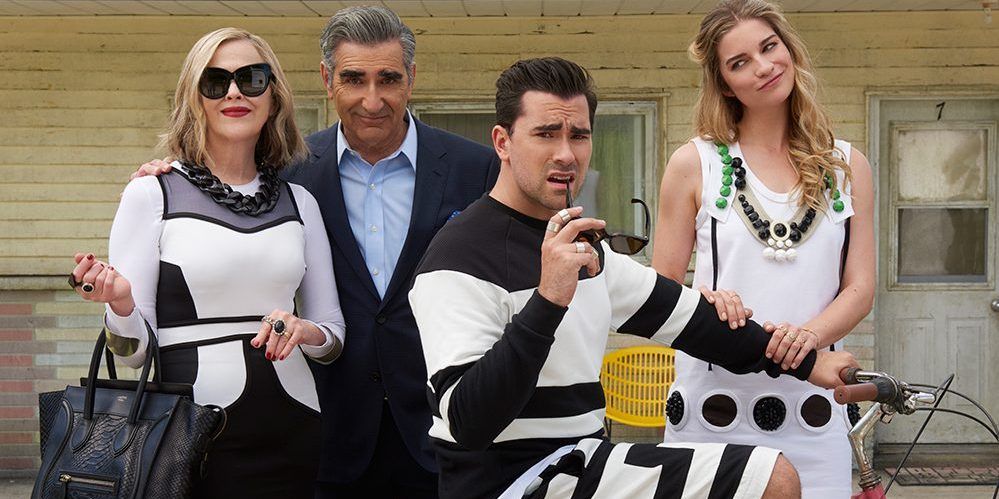 Before I dive too deeply into this review, as always, I would like to remind everyone that there will be SPOILERS for the show up through Season 4. And if you need a reminder of what this queer metric is all about, you can read the original article where this whole kooky business started.
What I Liked:
Now I had heard about Schitt's like a whole lot of other queers in my circle – by watching the clip from the tenth episode of Season 1 ("Honeymoon"), which has the now-legendary wine metaphor for David (Dan Levy) and his sexuality:
Like every other non-straight person I've met, I completely adore this metaphor. It's such a great, easy shorthand for explaining when gender does not figure into attraction. David himself does not use the term bi, or pan, or otherwise (though his dad Johnny (Eugene Levy) uses "pansexual" later). It's also a great way to remind everyone to not assume identifiers about anyone; David is an effeminate man who would easily get coded as gay by many, which is why Stevie was surprised at their hook-up. This clears things up nicely.
What I love, love, love about this metaphor is that it makes sure that David's attractions aren't red-or-white (or black-and-white), recognizing also that gender is fluid. He "likes the wine, not the label." (Side note: It's also visually amusing to see David describe this metaphor since sartorially he rarely varies from a black-and-white pattern in his wardrobe.)
I really enjoyed how generally accepting his friends, lover, and family reacted in this episode. Once David explained the metaphor to his friend/just-now lover, she was just fine. While his dad struggled a little bit, the mayor Roland (Chris Elliott) reminded him what's important in relationships, and got Johnny to be almost embarrassingly accepting of David's orientation. Smooth he is not (much as Johnny likes to think he is), but he is understanding where it counts. Not only that, but I assumed the residents of the backwater would be stereotypically bigoted, but even the doofus mayor got David's sexuality in a heartbeat (which shows how much prejudice I bring into my assumptions about small towns.) For a lot of fans, "Honeymoon" is where they felt sold on watching the series, and I can understand why.
What surprised me, however, was that David is not the only bi+ character in the show! In both Season 3 and 4, we come across multiple lovers who either date David and Stevie, or who are dating men for the first time. As I've said before a few times, it's a rarity that is happily becoming more normal to have multiple TV characters on the same show who are queer and that their queerness is neither a source of conflict nor does it result in tragedy. Lots of the moments are hilarious, but many also afford to be tender, which gives a lot of unexpected depth – something we sorely need to see more of in the modern media landscape.
What I Didn't Like:
It's hard to find fault in this delightful comedy. I love a good fish-out-of-water story, and this one has a deliciously vapid twist to it.
If I had to pick at anything, it would probably be at Johnny using the term pan. To be clear – personally I have no qualms with anyone using that label (you do you!) What I do take umbrage with is that this is not the label that David chose for himself. It's the one Johnny assigned to him in describing his sexuality to Mayor Roland. I'm not a fan of that, because it can often be inaccurate and often hurtful. Though I may have misunderstood the scene, and David said he was pan back in college and that's the identifier Johnny clutched to like his wife Moira (Catherine O'Hara) does to her wigs.
This isn't much about the nature of sexuality in the show, but there are also not a lot of people from marginalized groups in the Creek – few people of color, people with disabilities, etc. With both family and lineage from the Great White North, I can assert from my multiple visits that Canada is far more diverse than this show's makeup.
The Rating:
Despite my quibbles, Schitt's Creek really is a gem of a show. The cast is top drawer, the writing is sharp and incisive, and the whole feel of the show is a warm, happy vibe which we could sorely use in these modern times. And hot damn, good to see some pleasant representation coming from somewhere beyond Hollywood. Nothing to go "ew" at here.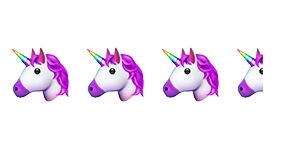 Comments
Facebook Comments