Famous Bis: Vincent Price
November 03, 2020
Share
Donate
Photo credit: Image/Price Family Trust
Have you ever first come across a famous figure from your youth, someone who skirted the edges of your consciousness, whose coolness you couldn't appreciate at the time because you were too young? For me, Vincent Price was that person during my 1980s childhood. Sure, I knew he was the one with the creepy voice that monologued during Michael Jackson's "Thriller" (whose seminal music video gave me nightmares but also kept me morbidly fascinated with each viewing). And I vaguely remembered him getting bitten by Kermit in vampiric form on The Muppet Show.
I even remember his final film jaunt as the inventor of Edward Scissorhands (1990).
But for all that, I had no clue that he was a titan in the horror genre (with over 200 acting credits to his name), or a gourmet cook, or a friend of some of the greatest innovators in the history of film and rock-and-roll. And I certainly didn't know that he was bi. There is so much more to Vincent Price, and I cannot wait to share it all with you, especially during this, the eeriest time of the year! So let's get to know this #boosexual boss.
Vincent was born in 1911 in St. Louis, Missouri, and raised as the youngest of four in a wealthy family, owing to a fortune his grandfather earned for developing a new method to create baking powder. Price graduated from Yale with a degree in English (like yours truly!) and a minor in art history. An art lover since his youth, Price decided to pursue a Masters of Fine Arts degree — until the siren call of the theatre beckoned him.
After treading the boards and landing a few professional roles, Price headed out to Hollywood to bring his talents to the silver screen. But the powers that be didn't know what to do with him at first. Price racked up an impressive list of roles as a character actor during the Second World War, most notably in a string of noir films (including the classic Laura (1944)). He also gave a noteworthy performance in the role of Simon Templar in the radio play The Saint (1947-1951).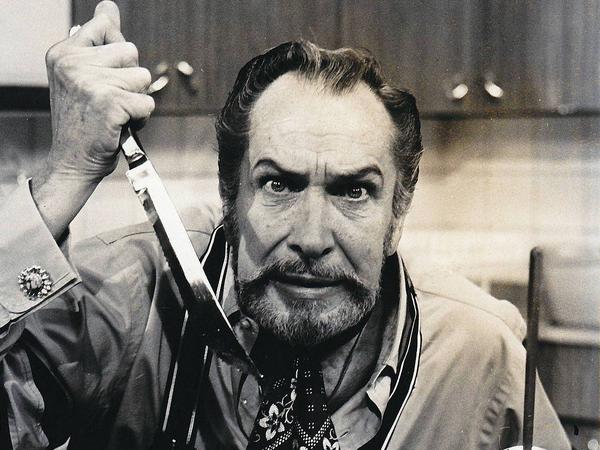 But it wasn't until the 1950s that Price truly hit his stride with indelible performances in what are now considered horror classics. His distinguished yet sinister presence was a perfect fit for villainous roles such as the original House of Wax (1953) and the original The Fly (1959), as well as its sequel. That's right — the Jeff Goldblum version was just a remake.
Vincent Price and an armful of cats! #Halloween2020 #Halloween #HappyHalloween2020 (1967) pic.twitter.com/2EVF2cRpSX

— Hammer Horror Films (@HorrorHammer1) October 31, 2020
These successes led to a prolific career spanning radio, film, theatre, voiceover, and television. Price embraced working across mediums in an era where many stars considered it beneath them. Because of this, Price's work, horror and otherwise, spanned generations. Some highlights include the TV series Batman, voiceover work for Scooby-Doo, and one of my favorites, semi-regular stints with witticisms on Hollywood Squares.
Of course, man cannot live by an illustrious creative career alone. You've got to eat — and Price loved food so much, he became a gourmet chef. In fact, not only that, but he ended up creating not one, not two, but five cookbooks. Oh, and he hosted his own cooking show. Because of course he did.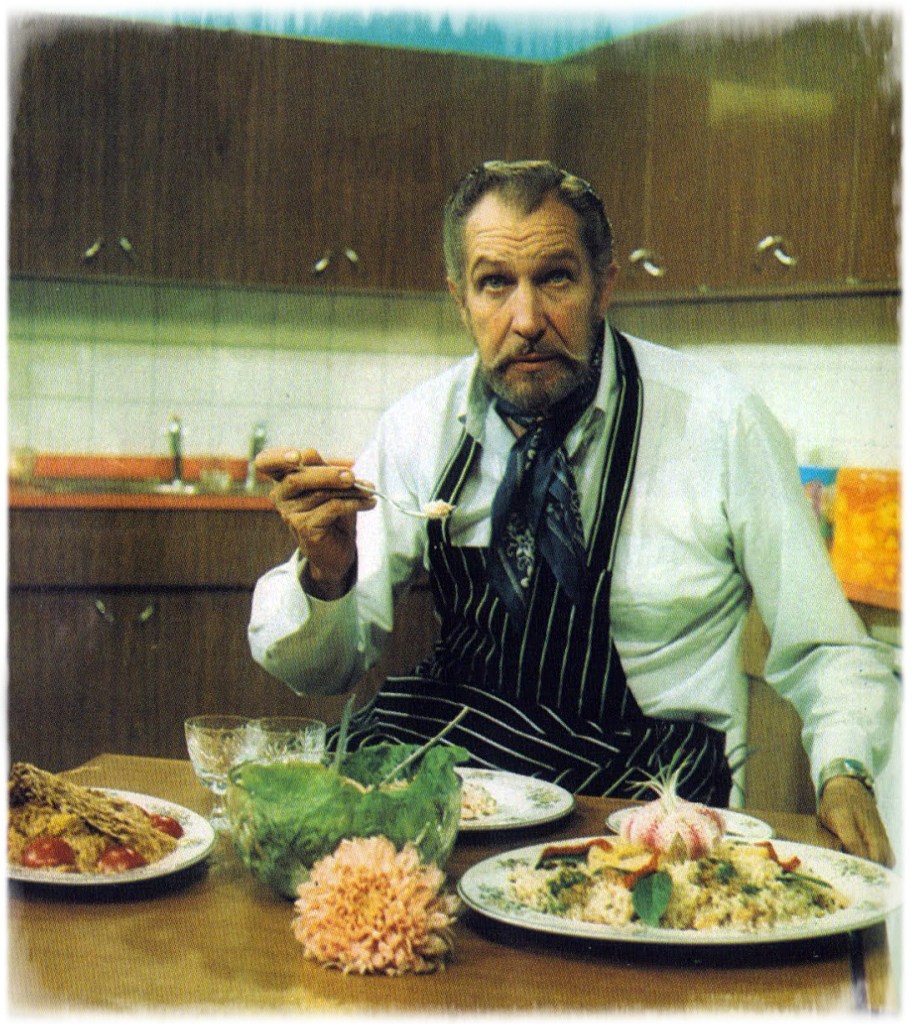 Price was also a noted art collector and philanthropist throughout his life. During the Eisenhower administration, he was chosen to be the commissioner of the Indian Arts and Crafts Board. He also believed that the masses should have access to great art — and he followed through by donating over 2,000 pieces to the teaching art collection at the (now-named) Vincent Price Art Museum in East Los Angeles. He also worked as a commissioner for Sears-Roebuck for over a decade, which sold art prints to the American public. And if his former Los Angeles home is any indication of his taste, it seems like he brought an impeccable touch to this work.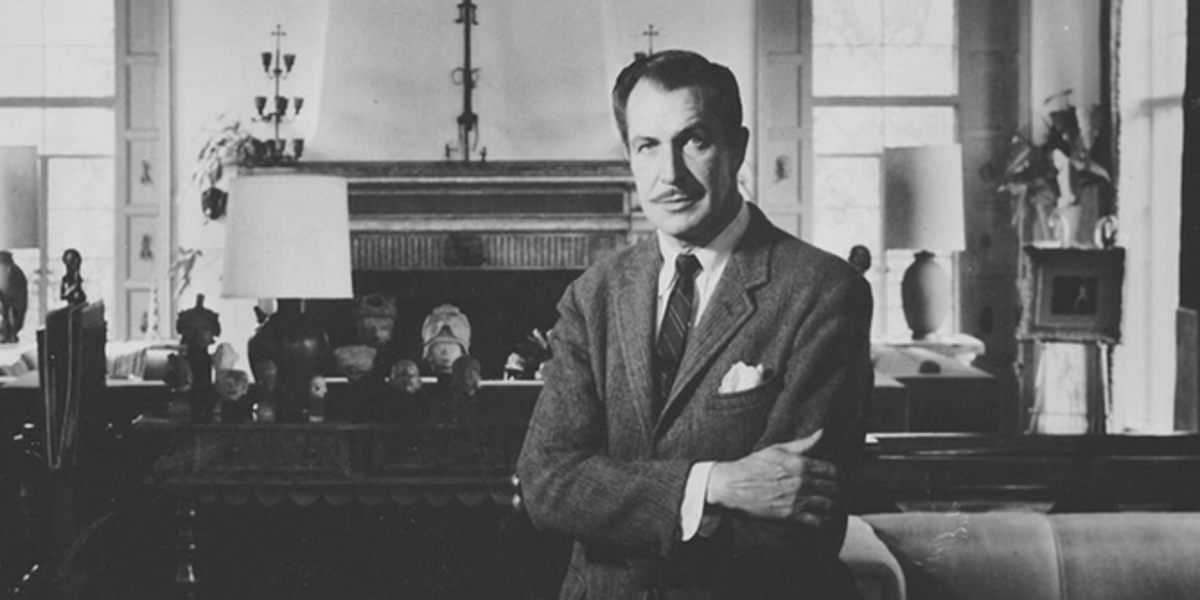 Now I know I've gone on and on about Price, and the truth is I could get carried away talking about one of the nicest men from the Golden Age of Hollywood. But we're here to talk about Price's queerness. Due to the effeminate nature of his dress, voice, and delivery, there were rumors for decades that, despite the fact that Price had three wives and two children, he was gay. To be sure, he publicly showed allyship before it was accepted in the mainstream — both by openly countering Anita Bryant's anti-gay-rights campaign in the 1970s as well as becoming an honorary board member of PFLAG and appearing as one of the earliest celebrities in PSAs discussing AIDS.
But privately, Price was about as open as one could be about his bisexuality. According to his daughter, Victoria Price, she was "As close to certain as I can be that my dad had physically intimate relationships with men." When she came out to him as a lesbian at age 22 in 1984, he remarked: "You know, I know just how you feel because I have had these deep, loving relationships with men in my life and all my wives were jealous."
So there you have it. I mean, you don't, really — I haven't even touched on Price's friendship with both the band Deep Purple and Alice Cooper, or his performing Edgar Allen Poe and fellow #Bi2 Oscar Wilde, or how his work not only inspired Tim Burton but also helped them forge a friendship up to his demise from lung cancer in 1993 — but we only have so much space. Suffice it to say that Vincent Price was one super-cool guy — an inimitable screen presence, a gourmet cook — and devilishly bisexual.
Comments
Facebook Comments