Famous Bis: Marlene Dietrich
August 18, 2021
Share
Donate
Photo credit: Marlene wearing a dark long sleeve shirt, laying on a bed with her hand stretched out and his hair wavy and down
Marlene Dietrich was one of old Hollywood's most powerful bisexual women. In a career spanning 50 years, Dietrich performed in over two dozen movies, as well as countless stage productions and cabarets. She was a dedicated supporter of the allied forces during World War II and a staunch anti-fascist who was openly critical of the Nazi regime. Her contributions to the LGBTI community, from Hollywood's first onscreen same-sex kiss to her androgynous approach to fashion, have gifted her a spot in history as an all-time bisexual icon.
Dietrich was born Marie Magdelena in Berlin, 27th December 1901 and was a strong-willed individual from childhood. By her 11th birthday, she had already combined her given names to form "Marlene," an unusual name for the time.[1] Dietrich attended an all-girls boarding school, where she became known for the "bedroom eyes" (heavy-lidded and hazy) that would become her trademark feature. Straight out of school, Dietrich began performing both as a singer on stage and an actor in silent films. In 1920s Germany, then the Weimar Republic, there was greater tolerance of homosexuality, and Dietrich spent much of her free time in gay bars.
Writer Gezza von Cziffra remembers Dietrich in her early 20s; "She was quite masculine, with her boyish, buddy-like behavior. She readily joined us at tables where several of the patrons were homosexuals, for in fact [she] was more interested — although not exclusively — in women." Dancer Tilly Losch, a frequent visitor to the lesbian bars of 1920s Berlin, echoes his sentiment; "It was chic for girls not to be feminine. I knew Dietrich in those days, and she was a tough little nut. But unlike the others, she somehow looked glamorous."[2] It wasn't until 1930, aged 29, Dietrich finally got her big break. Hollywood director Josef von Sternberg was attending a music revue named Zwei Krawatten in Berlin when Dietrich took the stage. Sternberg was instantly captivated by Dietrich's unique beauty and voice. He knew then he had found the leading star for what would become his most famous work, The Blue Angel (1930). "Sternberg watched enough of the play to hear her say one line in English — perfect English. He had found his angel."[3] The Blue Angel (1930) was a huge success and shot Dietrich to wide-world stardom overnight. Within a year, she had signed with Paramount Pictures and moved to Hollywood.
Her next major performance would send shockwaves through Hollywood. In Morocco (1930), Dietrich plays cabaret singer Amy Jolly, a sensual, confident woman. The infamous scene, which sees Dietrich dressed in top-hat and tails as she sings to a crowd, ends with Dietrich placing a kiss on another woman's mouth. The kiss is overtly sexual, and the audience reacts with shock and laughter. Despite the presence of two male love interests, this moment stands as one of the earliest examples of lesbian sexuality in film history.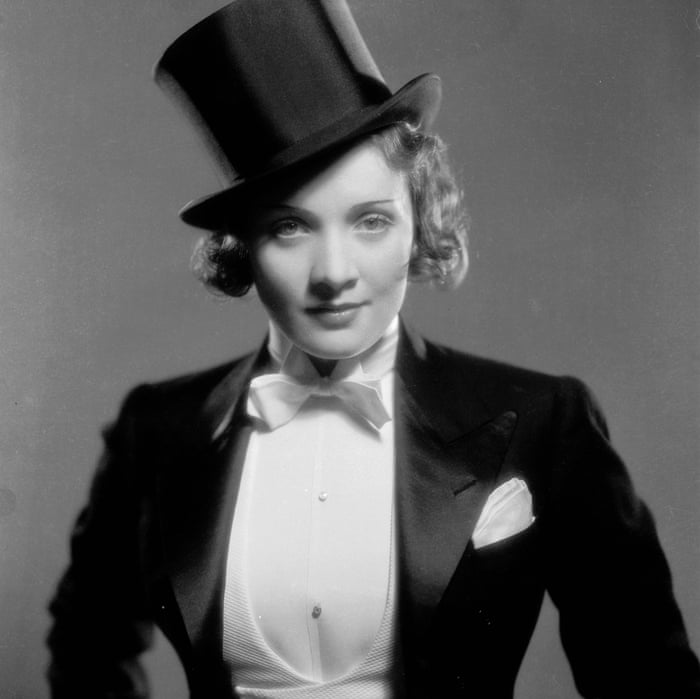 Dietrich became known for her masculine style, though she claimed not to care for fashion. "I dress for the image. Not for myself, not for the public, not for fashion, not for men," said Dietrich in a 1960 interview with The Observer. "If I dressed for myself, I wouldn't bother at all. Clothes bore me. I'd wear jeans. I adore jeans. I get them in a public store — men's of course; I can't wear women's trousers." Observer critic Kenneth Tynan described her unique image best: "She has sex but no positive gender," he wrote, "her masculinity appeals to women and her sexuality to men."
Dietrich didn't try to hide her bisexuality. Though she had a husband, Rudolf Sieber, she often told him of her affairs both with men and women and lived away from him after the first few years of their marriage. However, they never divorced, and instead, Dietrich maintained him and his mistress on a ranch. They had a "lavender marriage" — a female/male marriage undertaken to conceal one or both of the true sexual identities of the partners. Together they had one daughter, Maria Riva, who too went on to become an actress.
For the rest of her life, Dietrich would become known for her relations with both sexes. Some of her most notable partners included: actor Errol Flynn (and his wife Lili Damita), actor Delores del Río, former U.S. president John F. Kennedy, actor Tallulah Bankhead, singer Frank Sinatra, author Ernest Hemingway, and poet Mercedes de Acosta. It has even been suggested that she had an affair with actor Greta Garbo which broke both their hearts so severely they denied knowing each other or having ever met each other for the rest of their lives. Dietrich referred to her closeted lesbian and bisexual friends, notable members of the Hollywood scene, as "the sewing circle."
Dietrich's daughter Riva would go on to write of her mother's sexual relationships: "She didn't actually care much for [sex with men] — rather, it was a way of controlling and manipulating them," however, with women: "She actually enjoyed the sex, and the relationships were much more satisfying for her." In 1955, American magazine Confidential "outed" Dietrich, accusing her of having lesbian affairs. Five women were mentioned in the expose, and the magazine claimed her male lovers were cover-ups for her homosexuality. However, this had little impact on her career. "Lesbian affairs were good for you," wrote McLellan, "They expanded your emotional range, burnished your acting skills, and even — as Josef von Sternberg believed — exerted a powerful androgynous magnetism through the camera's lens, attracting the unwitting desires of both men and women in the audience."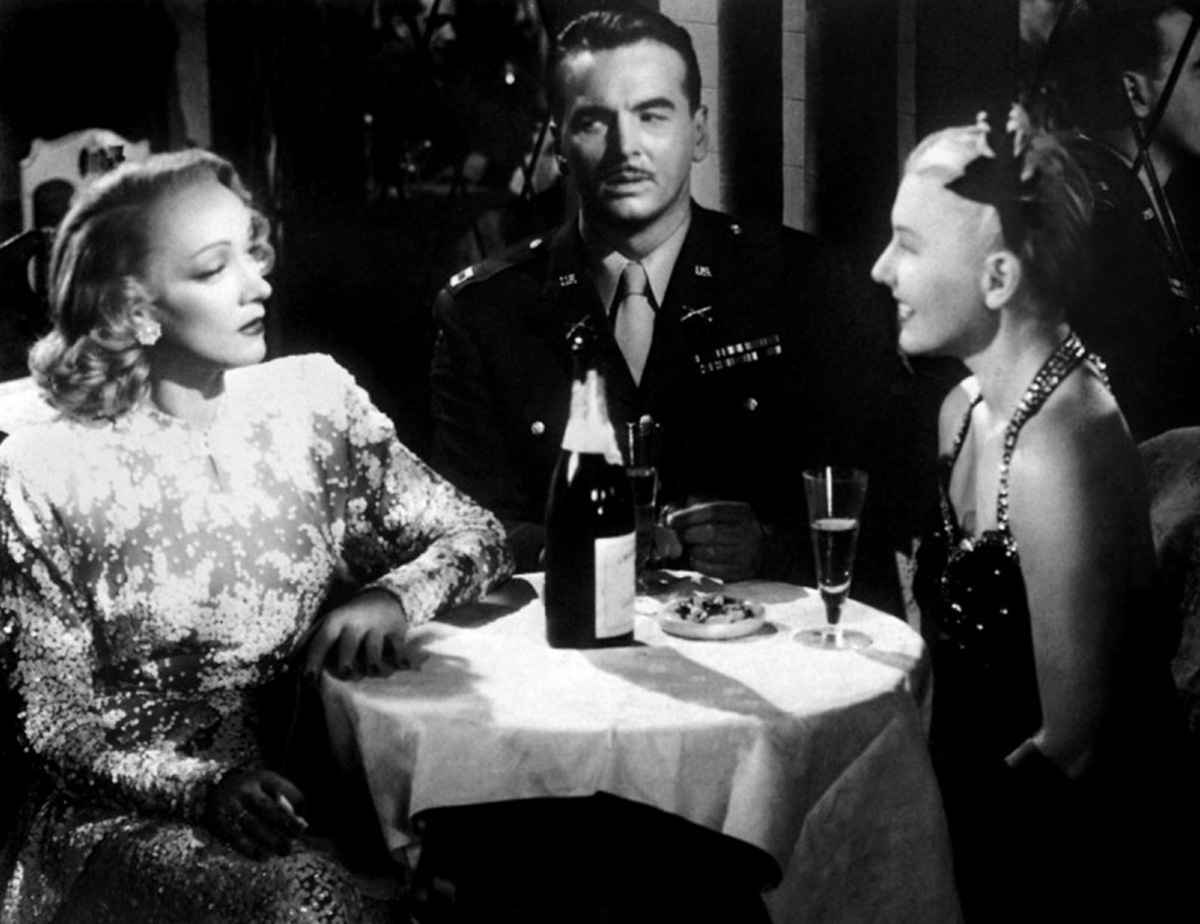 Upon his ascension to power, Hitler tried to tempt Dietrich back to Germany by offering her whatever roles she wanted for any wage she desired. In response, she denounced her German citizenship, filed for American citizenship, and stated, "The Germans and I no longer speak the same language." In the late 1930s, she created a fund along with actor Billy Wilder and several others to help Jews and dissidents escape from Germany. Her entire salary for Knight Without Armor (1937) was put into escrow to help refugees. She embarked on long tours to perform for U.S soldiers. When asked why she'd take such a huge risk performing so close to Nazi territory, especially as the Nazi government had placed a seven-figure bounty on her head, she replied, "Out of decency."
From the 1950s to the mid-1970s, Dietrich performed predominantly on stage in cabarets across the globe. She would start the show in one of her body-hugging dresses and a swansdown coat and change to top hat and tails for the second half of the performance. After a tragic stage fall in 1975 which permanently damaged her leg, Dietrich retired from public performance. Her final work was Just a Gigolo (1979), in which she sang the title song. Dietrich died aged 90 in her home in Paris. Her legacy remains a reminder to bisexuals and people everywhere to love freely, and to do what is decent and right, no matter the danger.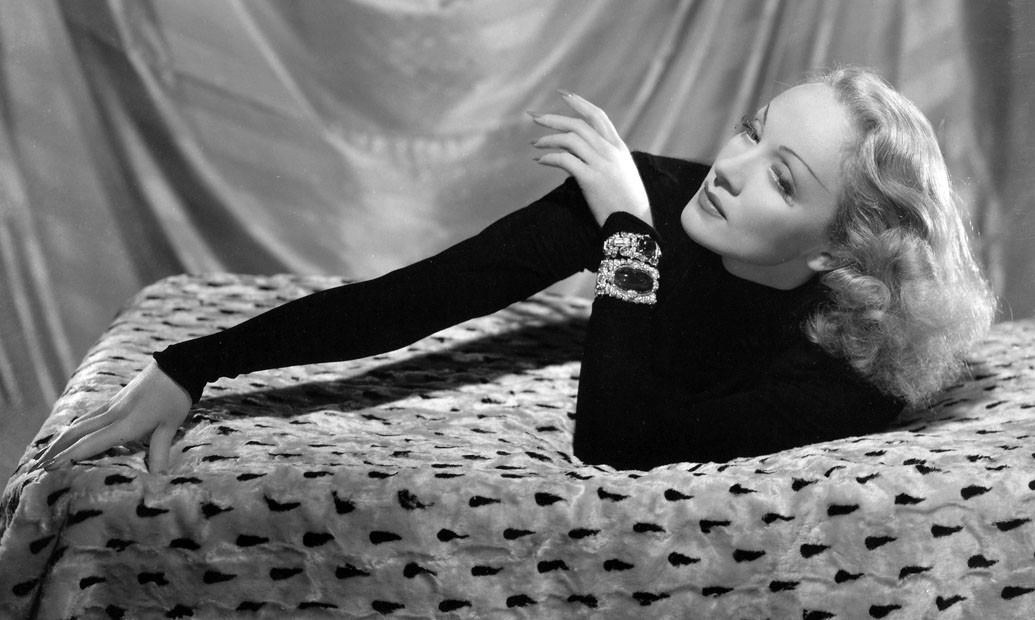 Comments
Facebook Comments