Famous Bis: John Lennon
July 28, 2023
Share
Donate
Do you remember the first song you liked? I can distinctly remember three from pre-kindergarten: "Take Me Home Tonight" by Eddie Money, "I've Got My Mind Set On You" by George Harrison, and what I still refer to as "Shine On", as my kid-self did, but is actually called "Instant Karma" by John Lennon. I can remember running around outside in the backyard, singing "Instant Karma" to myself and to trees.
When someone says the name "John Lennon", it does more than evoke a person, a genre, or even some very hip sunglasses. John Lennon is both an icon and an idea — an optimistic plea for something greater than ourselves. Lennon was a musician, singer-songwriter, and peace activist. But it wasn't until a few years ago that most people learned — or, rather, that it was confirmed — that John Lennon was bi.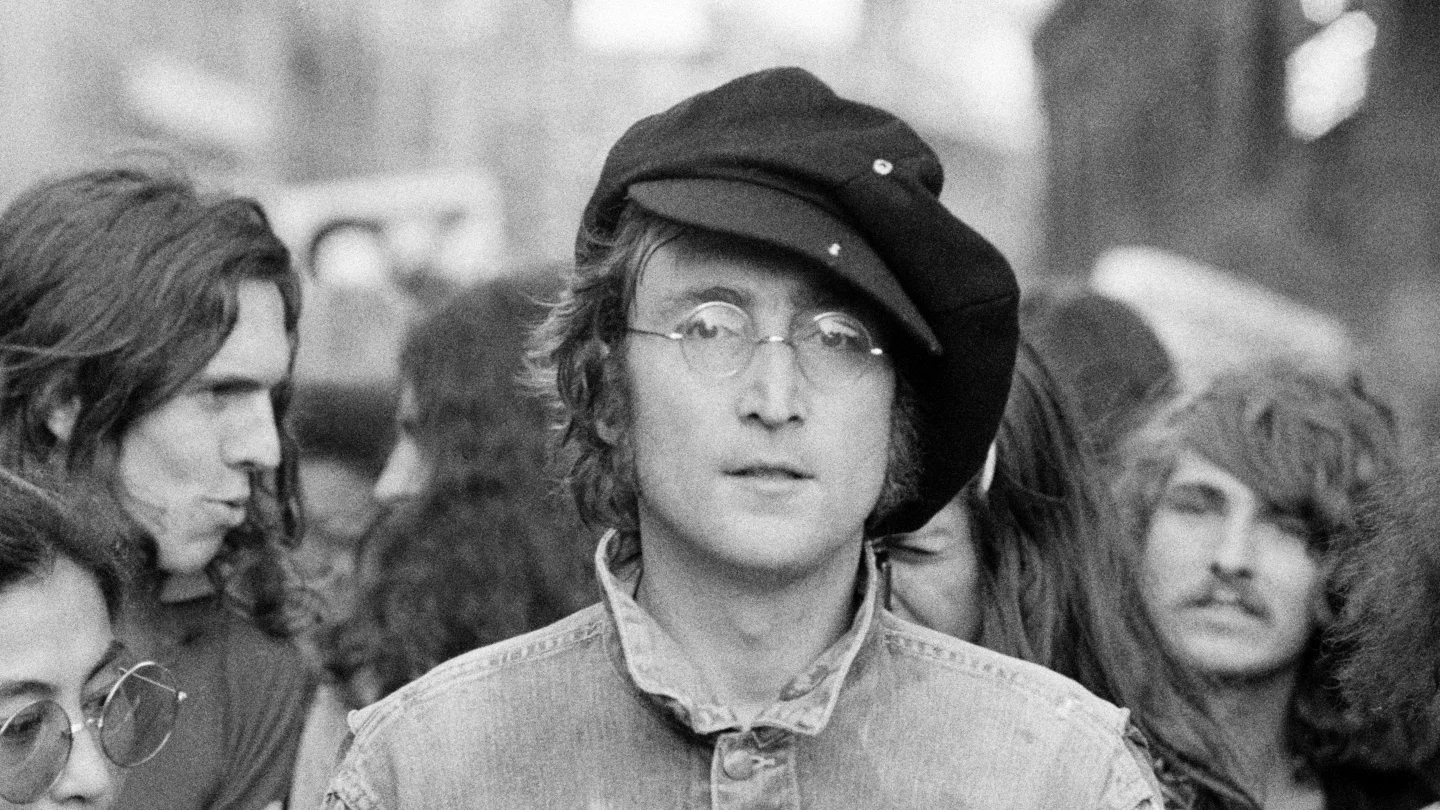 Lennon's life is far too vast a subject to do justice in an article, so view this as more of a highlight reel than a biography. In addition to the highlights, we'll also cover some of the lowlights, including chauvinism, drug use, physical abuse, emotional neglect of children, and murder, as these were key elements in his narrative. As with everyone, John Lennon was a complicated, contradictory human being.
Born in 1940 in Liverpool during a German air raid in WWII, Lennon's father, Alfred, was a merchant seaman who was gone for much of his early years (and, in fact, was not present for his birth). Around the age of four, Alf went AWOL (absent without leave) and within a year, his parents had split. Lennon didn't have much meaningful contact with his father for another 20 years. He spent most of his youth being raised by his Aunt Mimi, though his mother (and her new daughter) visited him regularly. Lennon showed some natural talent for music and was taught how to play a few instruments by family members. In his youth John was deemed a hell-raiser and a bad influence on the other children in his neighborhood, often behaving chauvinistically. (Lennon did a 180 in his later years and championed feminism.)
During his teenage years, Lennon, inspired by Elvis Presley, formed a skiffle band, and after a concert in 1957, met Paul McCartney who joined the group a few months later. McCartney and Lennon formed a fast friendship — in part due to bonding over the untimely deaths of their young mothers (Lennon's mother died in a car accident when he was 18, which devastated him). The following year, guitarist George Harrison joined up, followed soon by drummer Ringo Starr. After recording a Buddy Holly and the Crickets song, Lennon and the others were inspired by his work and decided to change the name of the group from the Quarrymen to the Beatles.
In 1961, after playing at the Cavern Club, music manager Brian Epstein discovered the band and signed them. Within a few years, they found popular success — both in the UK and across the pond in America — in a way no other band before them had. Beatlemania struck with a fervor. The following years were enormously productive for the band, who created groundbreaking albums and even churned out some classic band movies like A Hard Day's Night (1964).
But during the late '60s, the most popular band in the world underwent massive changes. The group was rocked by the sudden death of Epstein in 1967 by an overdose of sleeping pills. Usually working as a team with equal say, power plays began to emerge in the group. McCartney's desire to lead clashed with Lennon's creative direction. Harrison wanted his new material to be heard and was often ignored. Though they went to India, discovering the powers of Transcendental Meditation and incorporating it into their work, cracks continued to show. The launch of their new record label, Apple, got off to a shaky start. All of these issues came into play well before Lennon's second wife, performance artist Yoko Ono, emerged into the picture (more on this later). By the autumn of 1969, Lennon left the Beatles and started to work on his own projects.
Over the next 11 years, Lennon's solo projects were hugely successful. Some songs had minimal arrangement, others were far more experimental. Among the most popular songs from this era include "Instant Karma (Shine On)", "Fame" (a collaboration with #Bi2 David Bowie), and of course, the radical peace anthem "Imagine".
Regarding his sexuality: In his early 20s, Lennon married Cynthia Powell, with whom he had his first son, Julian. This was during the height of Beatlemania, and the existence of his marriage and newborn had to be kept on a very low profile. Lennon later left Powell to marry Yoko Ono, a performance artist with whom he had a second son, Sean. Lennon noted his friendship with manager Epstein was intense, but never physically consummated. In a 2015 interview, Ono revealed that Lennon was bisexual; that he and Ono agreed that basically everyone was born bi and that the had felt attraction to men but never pursued them due to both the awkwardness of his fame as well as not finding many who met his type (both extremely physically and mentally attractive.)
The life of John Lennon was not all rainbows, sit-ins, and standing ovations, of course. During his first marriage with Powell, he was known to be verbally abusive and on one occasion physically hit her. He also demonstrated some emotional neglect to his first son, Julian, while showering his second son, Sean, with love. Lennon dealt with extreme drug use as well, in fact, Powell cited his heavy use of LSD as one of the reasons they fell apart. He also was using heroin during the latter portion of his tenure with the Beatles.
In December of 1980, a few weeks after releasing his latest album, Lennon met an untimely demise when a crazed fan, Mark David Chapman, shot him multiple times outside of his New York City apartment. Though he was rushed to the hospital, Lennon was pronounced dead later in the evening. The worldwide mourning that immediately followed the news of his murder was akin to the assassination of JFK. Lennon was only 40.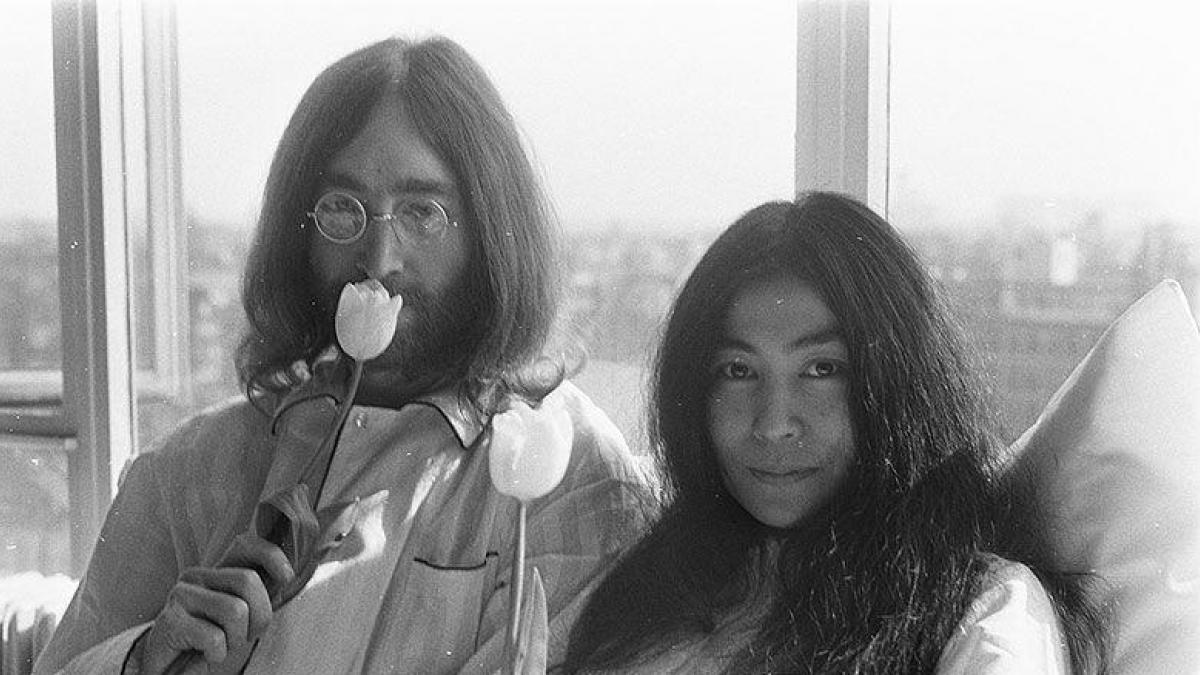 Though he was taken far too young, his legacy lives on. Apart from his legendary bed-in protest (where he and Ono refused to leave bed until there was peace), Lennon's message for peace as well as his opposition to the Vietnam War left a mark of defiance on a generation. His music is still widely bought, played, and streamed today — both his work with the Fab Four as well as his solo music.
Lennon remains one of the most influential pop/rock musicians of all time. His messages of peace and love continue to influence generations. And he was bi.
As mentioned, this is only scratching the surface of John Lennon's life. If you'd like to learn more about the subject (like the fact that due to his opposition to the Vietnam War, President Nixon tried for years to get him deported), it's definitely worth further reading.
Comments
Facebook Comments