Famous Bis: Eleanor Roosevelt
By Amara Lynn
March 25, 2020
Share
Donate
Photo credit: Pexels/Aaron Kittredge
Anna Eleanor Roosevelt was best known for being the longest-serving First Lady alongside her husband, Franklin D. Roosevelt, but Eleanor's legacy extends far beyond her time in the White House.
Eleanor was born in New York City on October 11th, 1884, but her childhood was far from easy. She struggled through the deaths of her parents when she was a child, and, without any other family to turn to, she was sent to live with her grandmother in England. She was brought up learning from private tutors until the age of fifteen when she attended finishing school in London at the famed Allenswood school for girls. After finding an unexpected mentor in the school's headmistress, Eleanor returned to New York at the age of eighteen and jumped right into social service work.
On March 17, 1905, Eleanor married her fifth cousin — Franklin Delano Roosevelt — and over the next decade, they became the parents of six children: Anna Eleanor (1906-75), James (1907-91), Franklin Delano, Jr. (1909, died as an infant), Elliott (1910-90), Franklin, Jr. (1914-88) and John (1916-81). Although Eleanor was devoted to her service work, her focus shifted to her children during those years, and she set her own goals on the back burner. However, when America entered World War I, Eleanor could not sit idly by. Eleanor volunteered for the American Red Cross, working in Navy hospitals to help those most affected.
Her husband was pursuing his political career throughout their relationship, but when he caught Polio in 1921, Eleanor stepped up and into the spotlight in an attempt to help Franklin retain his political standing. During this time, she still found a way to pursue her own goals and joined the League of Women Voters, and the Women's Trade Union League, and worked for the Women's Division of the New York State Democratic Committee.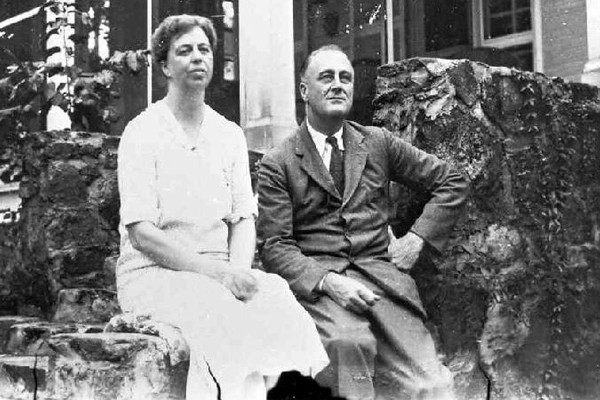 Following Franklin's election as governor of New York in 1928, Eleanor vowed to start leading her own life in the eyes of the public. One of Eleanor's most influential pieces of writing was her recurring newspaper column, "My Day", which ran from the end of December 1935 until September of 1962, when Eleanor grew too ill to continue. The column appeared six days a week, and at its peak, was published in 90 papers across the country.
The Eleanor Roosevelt Papers Project says about "My Day",

"My Day" is the only consistent existing account of [Eleanor Roosevelt's] public actions. The columns, while no means a complete record of ER's daily activities, do reveal much about whom she met, where she traveled, which books she read, which plays she attended, and how she handled the pressures of public life. They chronicle her development from awkward 'diarist' to skilled advocate for the New Deal, civil rights, the United Nations, and myriad other domestic and international concerns.
In 1933, Mrs. Roosevelt became the first presidential spouse to hold her own press conference, and as an act of political defiance, she only allowed female reporters to attend, as women were traditionally barred from such events. Eleanor remained very much active in the political world as well as social services, and was called "the President's eyes, ears, and legs".
She reported living and working conditions, relief efforts, and other relevant information to her husband, in order to help him have a more complete view of the status of the country during his presidency.
Even after Franklin's death in 1945, Eleanor continued to be a political powerhouse. President Truman asked her to serve as a US delegate to the United Nations; and she accepted, becoming "First Lady of the World". Eleanor remained in that position until stepping down in 1952 when President Eisenhower was elected. In 1961, President Kennedy reappointed Eleanor to the United Nations as the first chairperson of the President's Commission on the Status of Women, which she would hold until her death in November of 1962.
She also played a substantial role in promoting the Tuskegee institute, famously taking a flight with Chief Civilian Flight Instructor Charles Alfred Anderson. Her actions drew attention to the program and helped pave the way for Black pilots throughout the United States.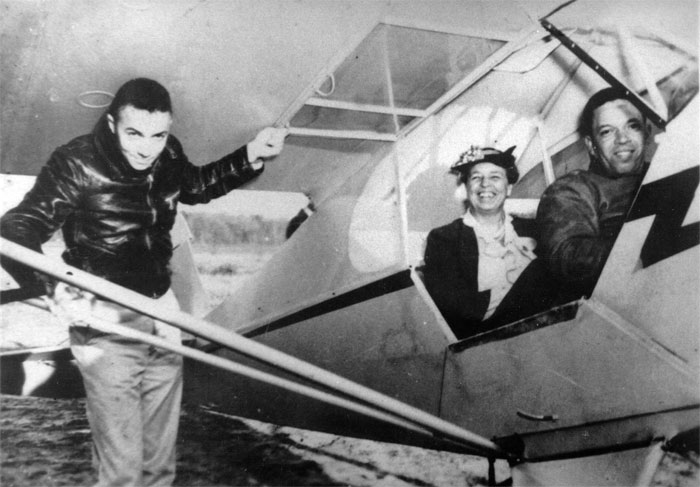 Though most every aspect of Eleanor's life was public, there was a side that most of the public was unaware of.
Eleanor first met her lifelong friend — and lover — Lorena Hickock in 1928 when Hickok was working with the Associated Press. It took Hickock a few years to convince the editors to allow her to report on Eleanor during her husband's campaign and administration, but the efforts were certainly not in vain. Lorena and Eleanor spent almost every evening together, and they quickly fell into a loving relationship.
Although their duties soon forced them to live in different cities, their relationship is documented in over 3,500 handwritten letters to each other. There has been some debate between scholars about the validity of these letters and the intimate relationship between these two women, but as more letters become known, it is increasingly difficult to think that this was what biographer Doris Fabra called an "unusually belated schoolgirl crush".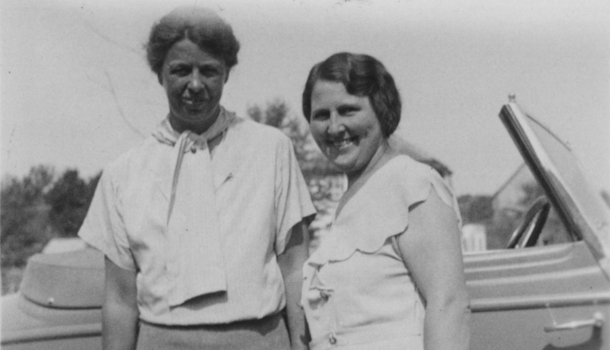 In a letter to Lorena on March 6, 1933, Eleanor wrote,
Hick, darling
Ah, how good it was to hear your voice. It was so inadequate to try and tell you what it meant. Funny was that I couldn't say je t'aime and je t'adore as I longed to do, but always remember that I am saying it, that I go to sleep thinking of you.
Their saying — "I love you and I adore you," — was repeated in hundreds of their heartfelt letters.
Hick darling,
All day I've thought of you & another birthday I will be with you, & yet tonite you sounded so far away & formal. Oh! I want to put my arms around you. I ache to hold you close. Your ring is a great comfort. I look at it & think "she does love me, or I wouldn't be wearing it!"
Eleanor,
I've been trying to bring back your face — to remember just how you look. Funny how even the dearest face will fade away in time. Most clearly I remember your eyes, with a kind of teasing smile in them, and the feeling of that soft spot just north-east of the corner of your mouth against my lips.
These letters, chronicled in Empty Without You: The Intimate Letters Of Eleanor Roosevelt And Lorena Hickok (2000), depict a friendship that evolved into a strong yet tender and deeply loving relationship between two people who very clearly meant everything to each other.
Eleanor Roosevelt was a trailblazer who created a path for so many women who wanted to being acknowledged in the political sphere. She worked tirelessly to make the world better than she found it and we are still seeing the results of her efforts today.
Comments
Facebook Comments