Famous Bis: Djuna Barnes
April 21, 2022
Share
Donate
Photo credit: Image/Ryder (1928)
"I can draw and write, and you'd be a fool not to hire me." Not the most conventional way to go about a job interview, and yet, Djuna Barnes was right. In her lifetime Barnes was a literary force, and didn't care to be humble about it. Her most famous work, Nightwood, published in 1936, was one of the first published novels to explore an explicitly sexual relationship between two women.
Djuna Barnes was born on June 12th, 1892 in Orange County, New York State. Her parents, Elizabeth and Wald Barnes were both struggling artists. Wald practiced polygamy, and his mistress Fanny Clark also lived in the home. Between the three of them, they had nine children. As the second eldest child, Barnes was often left alone with her younger brothers and sisters, expected to act as a third mother to them. Though she appeared to receive no formal schooling, she was encouraged to read and write by her father and paternal grandmother, both of whom had a great love for the arts.[1]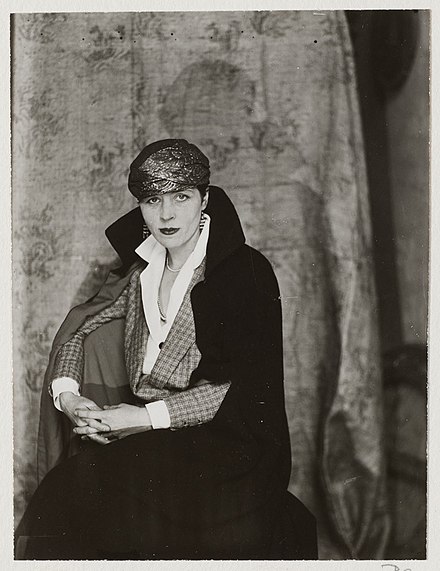 Elizabeth and Wald shared an unhappy marriage, strained by financial ruin, and finally divorced in 1912. Following the divorce, her mother moved Barnes and her brothers to New York City. This move allowed Barnes to explore her art education freely for the first time and was briefly enrolled at the Pratt Institute. Driven by a need to support herself and her family, it was around this time that Barnes' journalism career began. By 1914, Barnes was a regular writer and illustrator for the Brooklyn Daily Eagle, and in the decade that followed would find work with The World and the New York Press among other publications.
In 1915, Barnes moved from her family home to Greenwich Village, which many now recognized as a hotspot of LGBTI history. 1910s Greenwich Village had an atmosphere of sexual freedom which Barnes enjoyed, as she later told a friend "she had no feeling of guilt whatever about sex, about going to bed with any man or woman she wanted". Barnes had a number of affairs during her Greenwich village, the most notable of which was her engagement to Ernst Hanfstaengl, though this was short-lived, as Hanfstaengl decided he wished to leave the US and find a German wife. She also had a brief and tragic romance with journalist Mary Pyne, who died of tuberculosis in 1919, attended to by Barnes until the end. Her writing was often subversive and almost deliberately controversial; when reporting about a conversation with James Joyce, perhaps the most significant opportunity in her entire journalism career, she claimed to doze off and called him dull.
On an assignment for McCall's, a prominent magazine of the time, Barnes traveled to Paris. It was here, in 1921, that she met fellow artist Thelma Wood, the great love of her life. Within a year of meeting they had moved in together, and regularly attended Lost Generation Soirees, where their fights on the dancefloor would become legendary. The two would be together for eight years, a romance fuelled by alcohol, art, and passionate sex, but ruined by jealousy, violence and infidelity. Though Barnes pushed for a monogamous relationship, neither were faithful, regularly seeking casual affairs with both sexes. Though they remained on good terms following the end of their relationship - with Wood frequently trying to win Barnes back - this too came to an end when Barnes was published by Nightwood. The novel was clearly a fictionalized account of their relationship, and Wood (aka "Robin Love") was villanized in a way she found unforgivable and claimed the publication of the book ruined her life. The pair never reconciled.[2]
Much of the rest of Barnes' life was plagued with sadness. As her relationship with Wood came to an end, she left Paris for London. The competition for journalism was strong, and as she was no longer considered a young fresh voice, Barnes struggled to find work as easily as she once had. Her depression drove her to drink excessively, and one friend recalled how she would finish a bottle of whiskey a day. After a suicide attempt in 1939, she was forced to return to New York City and live there with her mother. Following more concerning behavior on Barnes' part, her family had her committed to a sanatorium, which further enraged her. Eventually, Barnes came to accept her alcoholism and fought toward sobriety, and found herself a place back in Greenwich Village. She would live there for the next 41 years.
Still full of anger towards her family, particularly her mother, Barnes began work on her play The Antiphon, primarily a biographical account of her childhood and its lasting effects on herself and the rest of the family. "I wrote The Antiphon with clenched teeth, and I noted that my handwriting was as savage as a dagger," she told one interviewer years later. When her brother read the play, he warned her against its publication, but Barnes insisted on seeing it through. Her relationship with her family never recovered following its public reception.
Despite accounts of affairs with multiple men and women, when asked about her sexuality later in life, Barnes claimed "I am not a lesbian, I just loved Thelma".[3] Though this statement may sound defensive or even homophobic, it is worth noting that at the time she said this, the AIDS epidemic had crippled Greenwich Village and other queer communities. Homosexuality as an act and as a lifestyle was being brutally condemned in the press, and she may have been trying to protect herself from public scorn.
Barnes became increasingly reclusive in her later life. Her neighbor, poet E. E. Cummings, would call up to her window "Are you still alive, Djuna?" after not seeing her for days on end. Writer Anaïs Nin was also a resident of the Village, as well as a great fan of Barnes and attempted to begin a friendship with her many times, even going so far as to name one of her characters "Djuna". This only irritated Barnes, who would cross the street when Nin was coming in her direction. Following years of failing health, Barnes died in her apartment on June 18th, 1982, less than a week after her 90th birthday.[4]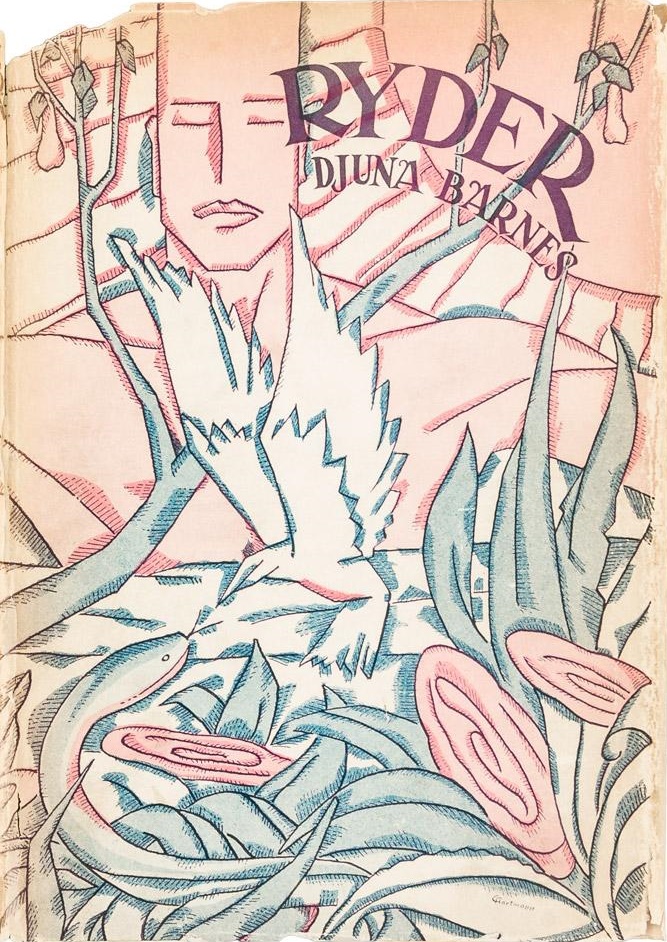 Comments
Facebook Comments