Rogues' Gallery: Ronnie Kray
May 28, 2022
Share
Donate
Ronald "Ronnie" Kray, best known as one-half of the formidable Kray twins, along with his identical brother Reginald "Reggie" Kray. Together they were the biggest organized crime perpetrators in London from the late 1950s until their arrests in 1967. Their gang was known as The Firm and included at least thirty known members, though it is suspected many others were involved. Ronnie, considered more of "the leader" than Reggie, was referred to as "The Colonel".[1]
Ronnie and Reggie were born on 24 October 1933 in a notoriously poor part of East London to parents Violet Annie Lee and Charles David Kray, a wardrobe maker. They had a brother, Charles "Charlie" James, six years their senior, who would later form an integral part of their gang. During the London Blitz of World War II from 1940 to 1941, where German aircraft bombed the civilians of British cities during the night, the twins, their mother and brother were evacuated to the English countryside. Later in life, Ronnie would recall this time in his life fondly, recounting that he enjoyed "the quietness, the peacefulness of it, the fresh air, nice scenery, nice countryside — different from London. We used to go to a big hill and went sledding there in the wintertime."
The twins left school at fifteen years old and took up menial labor roles as well as training as boxers. Their grandfather had been a professional boxer in his day and began to coach them in the sport, earning them a reputation of violence in their neighborhood. Ronnie was not as gifted a boxer as Reggie, who was soon winning competitions for his matches. Their older brother Charlie suggested their difference in skill reflected their developing separate identities; whilst Reggie was "cool and calculated", Ronnie was more "like a raging bull, charging in without thinking first." In 1952 they were called up for military service, but after a day they had gotten into a fight with their training commander and beat him severely, before running from the barracks. They were arrested the next day and sent to military prison, where they spent the majority of their military service.
So began the complicated criminal careers of the Kray twins. They first bought a run-down snooker club, using the club as a headquarters to store others' stolen goods in return for a cut of the profit. They soon expanded, securing a number of other similar premises through arson and armed robbery. Their success granted them celebrity status and soon were rubbing shoulders with the likes of Frank Sinatra, Judy Garland and Diana Dors. In his autobiography My Story, published in 1993, Ronnie reflected on these years with relish; "They were the best years of our lives. They called them the swinging sixties. The Beatles and the Rolling Stones were rulers of pop music, Carnaby Street ruled the fashion world... and me and my brother ruled London. We were fucking untouchable."
In My Story, Ronnie was was adamant about defining his bisexuality for what it was, in response to people short-handing his identity to simply "gay"; "I'm bisexual, not homosexual. Bisexual." He was even out to his mother, Violet, who was incredibly open-minded for a woman of the time. According to former members of The Firm, Ronnie would frequently boast about his affairs with both men and women.[2] "He liked me big time." He used to say, "Why don't you come round my mum's for dinner," told Joe Bailey, one such former member. This was undeniably brave for a man in the 1960s when homosexuality was still illegal, but Ronnie's gangster boss reputation kept him safe from slander. Though he had a number of relationships with both men and women, the most significant of which appeared to be his relationship with a woman named Monica. "Monica is the only girl I have liked in my life. She is a lovely little person as you know. When you see her, tell her I am in love with her more than ever," he wrote to his mother from prison whilst awaiting trial. Ronnie married and divorced twice during his time in prison, once in 1984, and again in 1989.
The Kray twins, drunk on power and wealth, were becoming ever more careless with their crimes. In October 1966, Kray killed a rival gang member, George Cornell, at a pub in Whitechapel. He walked straight up to Cornell and shot him directly in the head, warning patrons at the bar not to report what they had seen to the police before leaving. Just over a year later, the twins planned to kill a minor member of the Firm, Jack "The Hat" McVite, as he had taken money he had been given for a murder that he was supposed to commit himself, without actually having committed the murder. It had been Reggie who killed McVite, by stabbing him repeatedly in the chest and stomach. The killing of McVite shook members of the Firm and many wavered in their loyalty, as the majority believed that he did not deserve to die for what he had done.
Due to their reputation as dangerous, well-connected crime lords, trying to secure an arrest for the Kray twins was a difficult task. There was almost a "wall of silence" in East End London, with so many people participating in or benefiting from crime there was no incentive to talk with the police. Detective Chief Superintendent Leonard "Nipper" Read was assigned to the task of bringing down the Krays and their gang in 1964, but it wasn't until 1968 that he had enough evidence from eye-witness testimony to convict them of the murders of Cornell and McVite.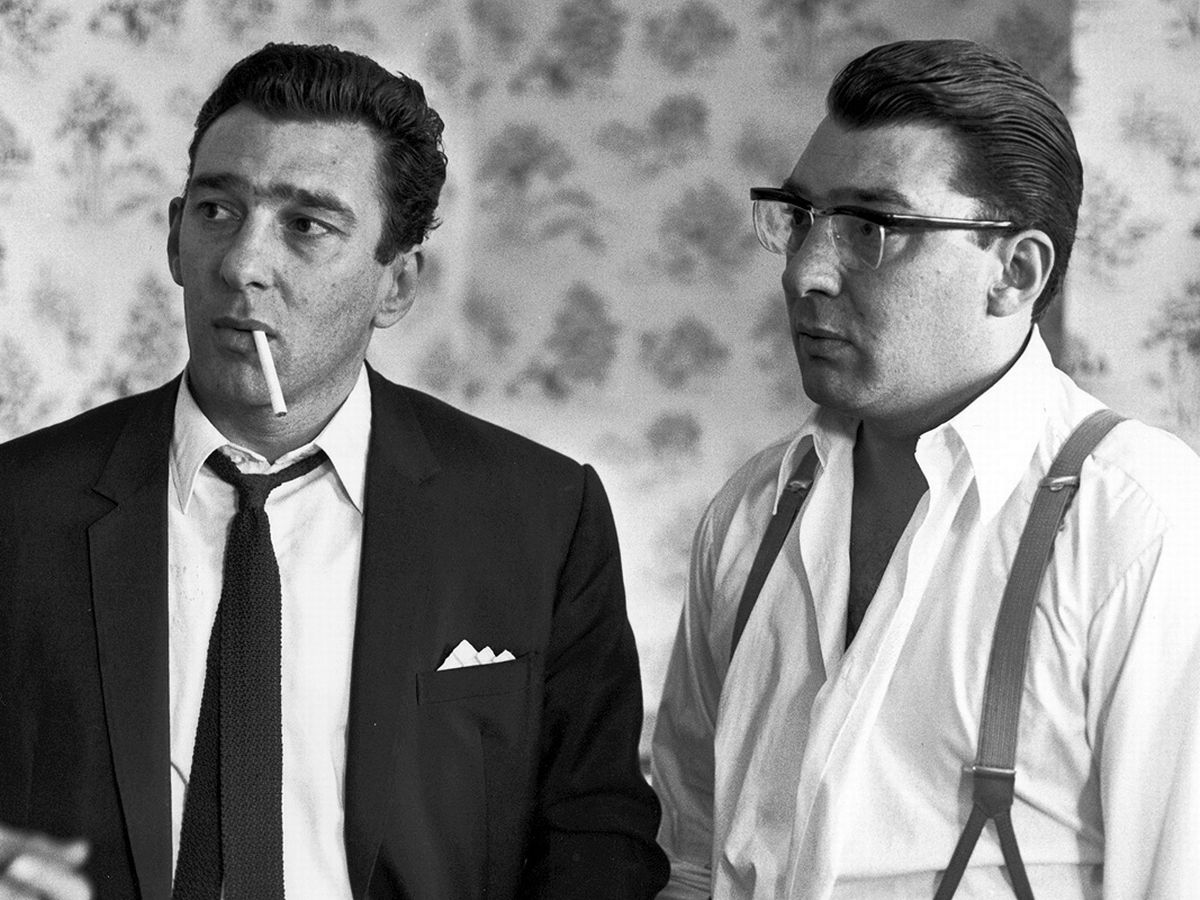 On the 8th of May, he arrested the twins along with fifteen other members of the Firm, offering each a plea deal in exchange for their full cooperation with the police. During their time in prison Ronnie came up with the plan that members would plead guilty to the murders; Scotch Jack Dickson should take the fall for the murder of Cornell, Ronnie Hart for McVite, and Albert Donoghue for the murder of a man named Frank Mitchell. It was after Donoghue told the twins he would not plead guilty to Mitchell's murder, and they responded with threats and anger, that Donoghue finally told Read everything he knew about the Krays and their crimes.[3]
In court, both twins denied all charges and claimed they had no involvement with the murders, despite overwhelming evidence mounted against them. Due to the sheer amount of people involved and countless conflicting testimonies, at the time of its occurrence, it was the longest murder trial in British history. Ronnie's was the first conviction to be read aloud; "Ronald Kray, of Bunhill Row, Islington, guilty of the murders of Jack 'The Hat' McVitie, a bookmaster's clerk, in a Hackney flat in October 1967, and of the murder of George Cornell in the Blind Beggar public house, Whitechapel, in March 1966." According to The Guardian newspaper, Ronnie "heard the verdict impassively", showing no emotional reaction whatsoever. Both twins received life imprisonment for thirty years with no parole, their older brother Charlie receiving ten for his role in the murders.[4]
Once imprisoned Ronnie was classed as a "Category A" prisoner, the most dangerous kind in the British justice system, and was denied almost all liberties and isolated from other prisoners. This punishment took a toll on him mentally, and in 1979 he was diagnosed with schizophrenia and sent to spend the remainder of his life in Broadmoor Prison Hospital. Ronnie Kray died on 17th March 1995 in Wexham Park Hospital in Slough, Berkshire, after he had suffered a heart attack. He was buried at Chingford Mount Cemetery, with Reggie being allowed to attend the funeral in handcuffs on compassionate grounds. He would be buried in the same plot following his own death in 2000, the pair sharing a headstone bearing the inscription "Grant them eternal rest, O'Lord; and let perpetual light shine upon them."
Comments
Facebook Comments