Bi at the Brooklyn Museum!
June 03, 2016
Share
Donate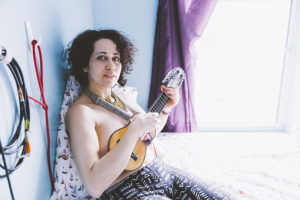 On October 16th, 2015, I opened my inbox and read "We received Honeybird's performance proposal and were very excited by her socially conscious artistry and thus are inviting Honeybird to perform as part of our Target First Saturday programming on Saturday, March 5, 2016 at the Brooklyn Museum."
Wow. I continued reading. "We feel that Honeybird's music, which boldly explores sexuality and womanhood, would be a perfect addition to this night of celebration! Target First Saturday is free and open to the community. Throughout the evening we serve a diverse audience of 10,000 visitors."
Again, wow! My jaw dropped. This was a great platform, a way to reach a wide audience with something near and dear to me, often invisible to others. I thought "Bisexuality at the Brooklyn Museum," hmm, can you imagine? I kept this idea to myself. It seemed far-fetched and overly-ambitious. I checked in with the museum, asking them, "so I can present bisexuality right? No holds barred?" They not only said yes, but actually wanted me to feel free to explore and share my personal experiences. They did request that I refrain from vulgarities as there were to be many young kids in the audience.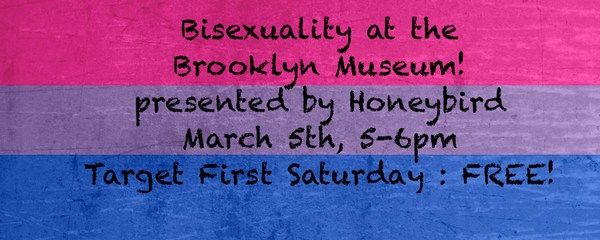 Come January, as the event kept mulling through my mind and I kept teetering between "I must do this" and "I can't do this," I was on the subway heading to a Bi-Request meeting at the LGBT center when something clicked and it dawned on me "Bisexuality at the Brooklyn Museum"... I must do this!
It's an amazing opportunity to put a face to bisexuality, an added voice for our community; I can use my music and this platform as a way to let our community be heard. But how?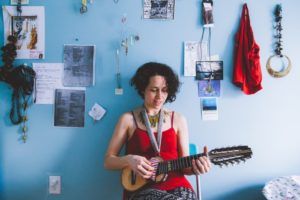 Music has been a huge part of my coming out process. Singing live about my life experiences has caused me to confront and accept myself and has helped me realize just how many like-minded people there out there.
I decided for this singular occasion, I better get a big group together. Thus, I began the process of gathering people. Now, not everyone was up for this. First, there were those who were interested but did not feel comfortable sharing their bisexuality in such a public place (as a museum!). Then, there were those who loved the idea but their Biphobia caused them to drop out and seek distance. There were also some musicians who did not feel comfortable performing on stage at an event with bisexuality as the main focus.
For similar reasons, even promoting the event was complicated. Not all the participants were comfortable publicly being mentioned in the facebook event, and some of my family and friends felt awkward clicking "attend." They suggested it might be better not to give so much of a focus on bisexuality.
The pressure to erase bisexuality was immense. I refused to back down, though a few compromises were made. I removed the bi flag from the event header and was more cautious about how I worded the invite and whose names I included. I kept bisexuality as the focus of the event, despite concerns. Bisexuality wasn't erased from this event, but the general problem of Bi-Erasure means that when we actually DO make bisexuality visible, there is increased pressure to represent bisexuality and bi people accurately and fairly.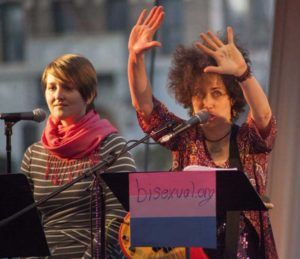 And what if the theme had been homosexuality? The hesitation people felt around joining would have been different. It ties back to putting a face to the orientation. People think of gay people as fun, outgoing, they love to dance and get down. People think of lesbians as outspoken, bold, empowered progressive women. But what does someone think of when they think of a bi person? They draw a blank. Or even worse, all the stigmas and myths come into their head: that they are slutty, indecisive sex-fiends who sleep around; that they can never be in a steady monogamous relationship because they're curiosity is insatiable. This is frustrating!
We bi people come in all shapes and sizes, with many different interests and desires, situated across all spectrums. One thing that irks me is when people ask how a bi person could ever be satisfied in a monogamous relationship. Well, being attracted to men and women doesn't mean we ALWAYS have to be with BOTH men and women at all times. That's like saying someone who likes redheads and blondes must always be with one of each at all times. It's ridiculous, but that's exactly the sort of nonsense we face. I so wish people would stop placing the blame on us for failed relationships. It's derogatory and offensive.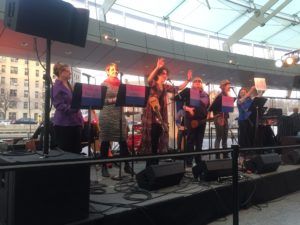 Anyway, back to my search for a group. Eventually, some AMAZING bi women (this was for Women's History Month, too) came forward. They stepped up to the plate big time. We started discussing, meeting, sharing experiences. What did we want to communicate? What would bring people in? What might scare people away? We had to engage the intergenerational audience. We needed to inspire everyone in attendance to recognize bisexuality as a valid and real orientation. We were a group of women of all ages, from a married bi woman to an asexual bi woman, a once-out-now-closeted bi woman and a "so-young-I-didn't-even-know-it-was-a-thing" bi woman.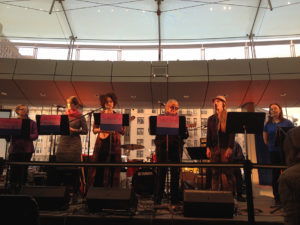 At our first meeting, I told everyone that if we reached one person out there in the audience, if just one bi person grappling with their sexuality could hear that bisexuality is real and know that they are not alone, then it will have all been worth it. They agreed. In the back of my mind is me at 13 years old, liking boys and girls, feeling I was totally and utterly alone in that, when actually I wasn't. It took me over 20 years to realize that.
NOTE: It can be especially difficult to come out as bi, particularly when one does not know any openly bi people. There are misconceptions about what being bi means, which creates criticism and often self-judgement around being bi. Bisexuality doesn't mean swinging or polyamory or polygamy or orgies, etc. People of ALL sexual orientations do those things. And bi people, just like straight and gay people, mostly just live normal lives and want the same things out of their relationships as anyone else.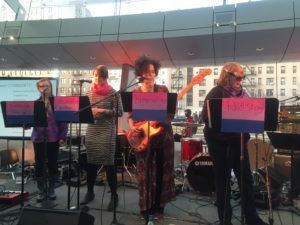 This event was important on many levels. There are stigmas around bisexuality. The worst of which is probably the unfortunate false belief held by too many: that bisexuality "doesn't exist." It takes people time to come out as bi in an environment where their experiences are constantly invalidated. This is one reason why it was so important to be there at the Brooklyn Museum, to put a face to bisexuality. Yes, we are real people. No, we are not confused (about our sexuality); no this is not a phase.
The rehearsal and script development process was informative, especially due to the wide range of backgrounds. This granted us heightened sensibility towards various ethnic and age groups, for instance, when listing Bi Women from History, to not "out" women that didn't come out during their own lifetimes; to remember and highlight places where Bisexuality is considered a crime punishable by law and at times by the death penalty; to keep in mind that some may be uncomfortable if asked to hold hands in an audience where the subject is sexuality/bisexuality. All good points. We did not include the bi health statistics. It seemed depressing for the afternoon museum-going audience. We did however have resources projected up on a screen (including bisexual.org) and mentioned that March is Bi Health Awareness Month.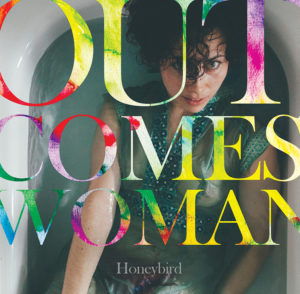 By incorporating my Honeybird songs we broke up the talking, sang together and kept it as fun as we could. Many tunes we sang were off of my album Out Comes Woman, such as "Come Out", "Please Mona Please" and "TMBLGBT".
Some were present behind the scenes, including #StillBisexual founder Nicole Kristal and long-time Bi Activist Paul Nocera and a few other Bi friends who wanted to be involved without performing. Nicole's book "the Bisexuals Guide to the Universe" was also inspirational. The rest of us were right up there on stage, speaking, singing and first and foremost putting a face to bisexuality.
Before we knew it March 5th was here. Our moment to shine and glow, all dressed in pink, purple and blue. I proudly hung the Bi-Pride flag and Jen Samson made some delightful signs and tri-color banners which went up right, left and center. The Glass Pavilion of the Brooklyn Museum was packed and the stage was set.
There we were, all eyes towards the 7 of us on stage. We were presenting ourselves, standing tall and proud in front of hundreds. It was a bold move. We did our best to engage the public, to invite them to hear our stories. Voices from the community were shared, such as Alex Hanson who read her moving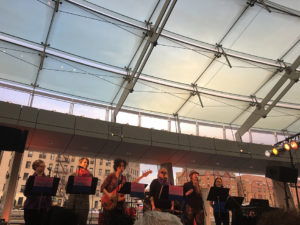 #StillBisexual story. Twice in the presentation we repeated "You are not wrong, You are not broken, You are not alone," the phrase Lynnette McFadzen of the Bicast so wonderfully coined. Later on, we invited all to "blow away their biphobia," as bubbles were blown throughout the audience. This had been an unanswered request from the museum until a half-hour before we went on, at which point the museum staff told me "our head honcho just got back to us. OK on the bubbles, as long as they don't go near the art". Yes!!
After our performance, many gathered around and picked up free issues of the Bi Womens Quarterly which Robyn Ochs had so kindly sent from Boston. The sound engineer told me "I had never seen a bisexual performance, Gay Lesbian and Trance (at the museum) yes many times, never bi. That was cool." WOW. Good on us! Some high school students also interviewed me after the show, about my identity and orientation as bi.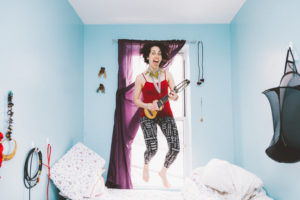 This was my first group foray into bi-activism and it felt empowering. It was so intense from the activism side that I even didn't tune my bass up before the performance (a first for me!). My mind was on the message this time around. We are already discussing another performance someday down the line.
And I'm 100% sure that at least one person in the audience heard us and felt validated, realizing that they are not wrong, not broken and not alone. And this was the goal of all of us involved. To let all bi people know that *You are not wrong* *You are not broken* *You are not alone*.
We were most certainly not alone that night at the museum.
LISTEN FURTHER: chatting about the event with The BiCast
#BiPride #StillBisexual #community Bedroom photos by Bianca Bourgeois
Comments
Facebook Comments