Tim Manley on Season Three of "The Feels"
By SB Swartz
March 30, 2019
Share
I was sitting in the back of the blue family van, my face pressed against the laminated glass. A kid stuck sucking in as much fresh air as I could from those old windows that would barely vent. Vacation road trips down midwestern highways meant counting a lot of cars to distract from motion sickness. As I looked on I started to notice fellow kids in those cars, mothers unfolding paper maps, dads drinking coffee out of styrofoam. They had whole lives they were living, both like and unlike mine. Every car we passed held a city of life.
"Sonder. Which is actually a made up word from The Dictionary of Obscure Sorrows. A noun that means the realization that every random person passing by has a life as vivid and complex as your own."
I recently had the opportunity to sit down with co-creator, co-director, writer, and star of web series The Feels Tim Manley. 2019 will see a new season of the web series. When I asked what makes Manley excited to share season three with viewers, it is this concept, sonder. Our recognition of the vibrant lives of the dark haired woman in front of you at the pharmacy, the tired person who held the door for you, the helmeted biker who buzzed by. "In this season, half the episodes focus on characters other than mine. Which I'm really excited about. Coincidentally, a lot of those characters are bi."
What do you hope people take away from The Feels season three?
I'm grateful if people take away anything that is useful to them. My only real hope is that I want the show to kind of feel like a friend for someone. Maybe like a really good conversation with a dear friend or like a paperback book that you keep in your back pocket. I want this show to feel like someone that would never put you down. Like this is a show that loves you. I don't know what that is to take away, but that's my hope for what it's like.
I'm really looking forward to season three! Are you able to share anything about new characters?
Some characters from previous seasons will return and some will be brand new characters. This season has two main relationship arcs other than Charlie's. One is a poly triad who's just moved in with each other. The other arc is two former high school best friends who decide to try out dating as adults. It's fun and beautiful and we have a lot of other episodes that are these sneak peeks into people's lives.
I hope it's true that if you haven't met this character on screen before you can still feel close to them quickly. We [Manley and co-creator and director Naje Lataillade] co-write these episodes with the actors who are playing the roles. My hope is that we're able to achieve authenticity in our representations of people of different genders, sexualities, and races, because there's certainly many characters who don't have my same identity. Naje has said this before and I like the way he phrased it, we try to be inclusive in our show without exoticizing, fetishizing, or otherizing anyone else's identities.
If we're able to do that, I think it's because we let the actors either write their own lines or make major choices about those characters. So there are a lot of characters and storylines in this season I'm excited about. We have some guest actors I am incredibly excited about. It was the best experience of my professional creative life to work with the people we got to work with this season.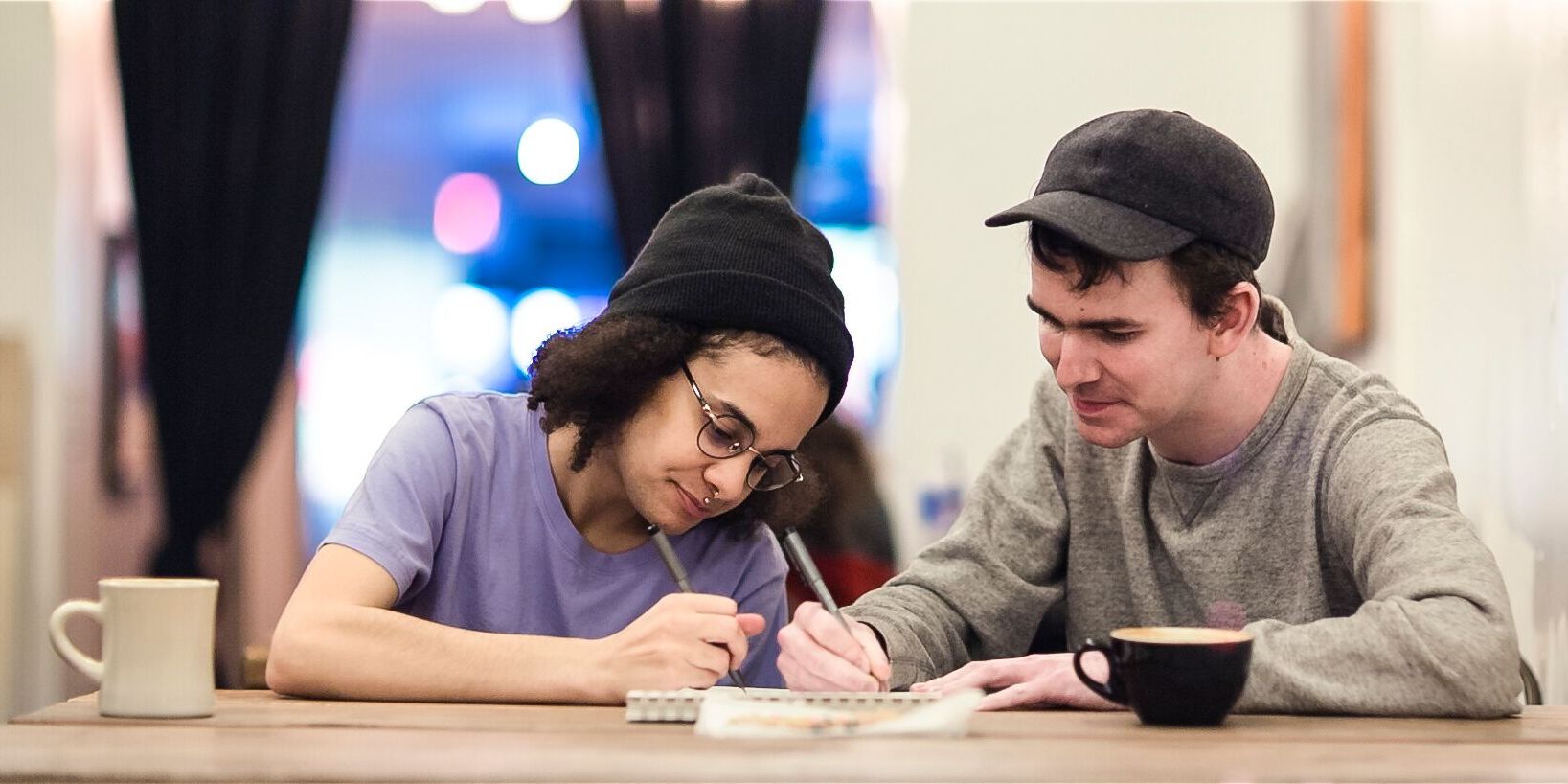 You've mentioned there's going to be greater bi visibility for Charlie in season three. My original question was going to be about your motivation for this choice. From what I'm gathering, so much of The Feels is written from a place of authenticity, so maybe it wasn't necessarily an active choice to move in a direction.
Because so much of the writing process is intuitive I might not name it a choice. Only because I think my heart is smarter than my brain. So if I sat down and said I'm going to write something really mind blowing about being bi, it's probably going to be extremely [unsuitable]. But if I just follow my intuition it hopefully will be wiser than my brain would be. Whatever it's called, I do think with Charlie and with the other characters on the show, we just have a lot more bi visibility. With Charlie, he's in a relationship with a gay man, but we also get to see him running into an ex who's a bi woman.
The challenge when you have a bi character is: How do you show bi representation? That's how we always end up with these tired narratives of I can't decide which gender to choose. I don't know anyone in my life who's ever actually had that problem [laughs]. But I can understand the challenge in: How do you show someone is bi? In this season, because we have so many characters you get to see different bi people and different representations of what that looks like. It worked out coincidentally. Naje met someone and he was like, I think we should do something with this person. So I get coffee with them and it comes up that this person's bi. And I'm like, okay, well then we're going to probably write that into the character somewhere. So it might just be casually mentioned if you don't get to see them in relationships or see different partners they've had.
Are there any season three episodes of The Feels that are particularly meaningful to you because of the visible bi content?
There's an episode in this new season that I'm really excited about, between me and David J. Cork, who wrote "Bi: The Webseries." It's not Bi 101. It's not Intro to Bisexuality. It's a conversation between two guys who are bi. It's: How would we talk if we didn't have to define or defend ourselves?
In part one of our interview, you mentioned in your experience some bi men may not know how to talk about their sexuality. Is that something that you're exploring in season three, or in your work going forward?
It's something I'm interested in more. When we were putting together this season, Naje told me he wanted to see an episode of Charlie talking to another bi man. And at first I'd sort of been like, yeah, yeah, maybe. And this is where the shift was: I went to the opening of New York Pride this year in front of Stonewall [Inn]. A man spoke, Dr. Herukhuti. When he spoke, I was so moved and it was this feeling of, oh I need to talk to other bi men, specifically. There's some sort of healing there that needs to happen. There's a specific kind of healing that can come from bi men specifically talking to other bi men.
Have a sonder with "The Feels" on Youtube. Season Three premieres June 1. And read part one of my conversation with co-creator, co-director, writer, and star of "The Feels," Tim Manley, right here on BiDotOrg.
Comments
Facebook Comments