The Bi Guide to Staying Home for the Holidays
By SB Swartz
November 22, 2018
Share
Hey. What are you doing for the holidays? This simple, ubiquitous question can bring up So. Many. Feelings. "Not going home for the holidays can cause a lot of distress for LGBTQ people," shares therapist Michael Salas. "Culturally, we have a norm that says that people should spend time with their families during the holiday. For some people, it's not healthy or safe to do so."
Maybe this message finds you in a place of sadness or regret that you're in this position. Maybe the decision itself has left you a bit euphoric! Freedom from responsibility to others, freedom from the stress and worry of the unknown and the certain-lies. You're staying home for the holidays. Let's get to finding out some ways to celebrate this most wonderful (and sometimes most-wonderful-to-be-over) time of year. Make yourself a warm cup of tea, throw on your softest, thickest socks, and put a fire on. If the world is your oyster this holiday season, let's take a look at some pearls that'll help you thrive.
Chosen family is one way to create and maintain connection through the holiday season and beyond. The family we choose can come in many forms, including a defined group or dispersed reciprocally loved friends. According to Salas, "People can often find supportive friends who are willing to invite them to their own get-togethers." Important to acknowledge is that going to a gathering might not be a 100% match for social needs. "This can also create a sense of loneliness, because that person is now witnessing their friend's family on the holiday."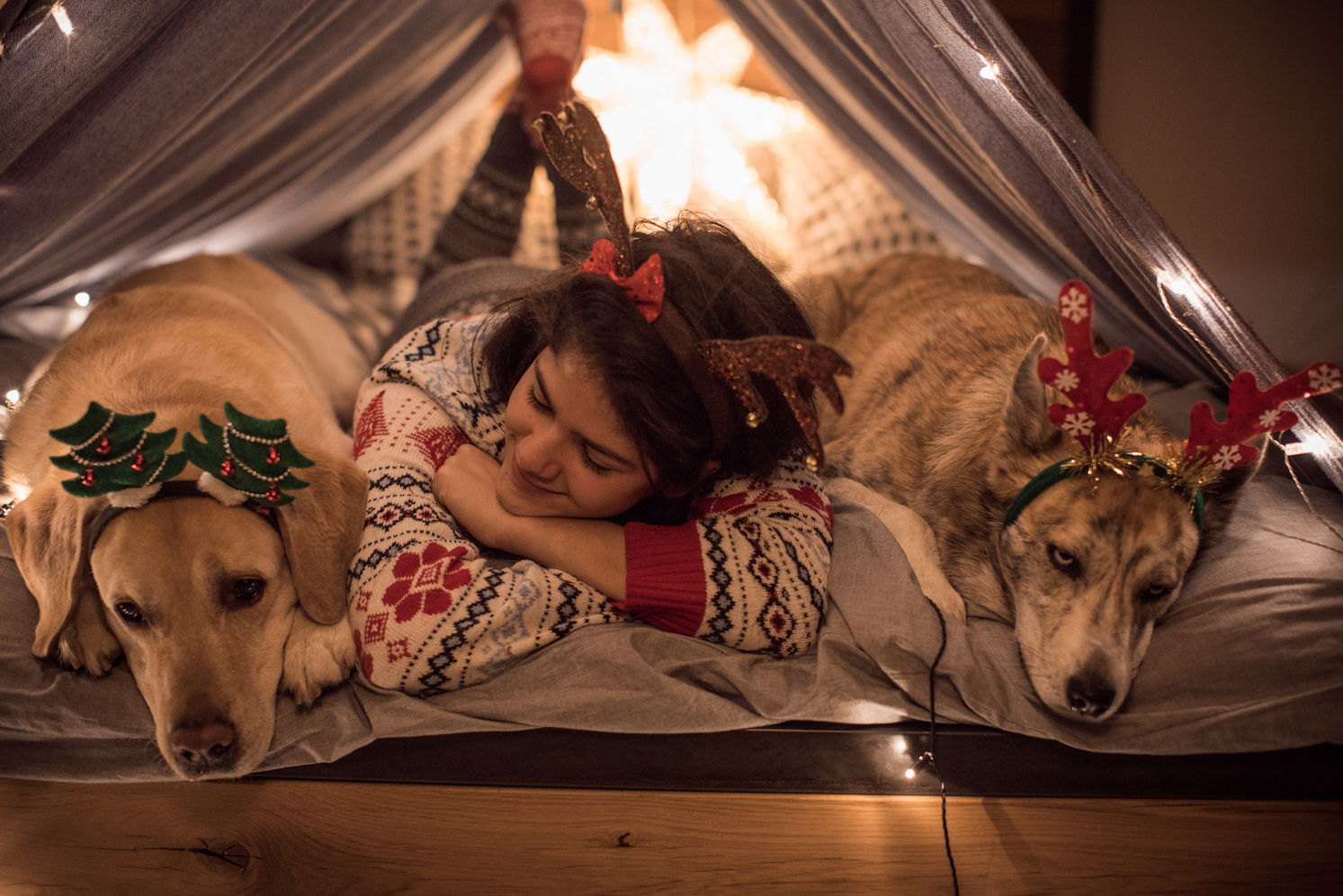 If you feel lonely or down, check in with yourself. Do what you can to meet your needs where they are. If you have a therapist, book an extra session or see if there are times they might be available by phone or text. It can also be helpful to have a friend or two to talk to who welcome you entirely. "It's critical to have people in your life who will allow you to share your feelings without judgment. These people will just be supportive and sit with you in the emotion, rather than try to pull you out of it. Often times, sharing it and feeling understood can make it dissipate." Maybe try a combo. Gabrielle Noel works every Thanksgiving, and spends the next holiday with friend-family. "I spend Christmas with my best friend's family," Noel shares. "I love it so much better this way. It doesn't feel lonely or like a loss."
If it is an option for you, consider having people over at your place. This can mean friends or family, both on the actual holidays or just nearby. "If you decide that you want to spend time with family at different times but keep your holidays for your chosen family, that's a great option," says therapist Sara Stanizai. "You have the opportunity to start your own traditions, and even invite your family to your 'turf.'"
Maybe you're able to set aside a chunk of time to curl up under a blanket and enjoy time with you. Here's a list of fantastically queer-friendly ways to spend some time over the holidays this year:
STREAM. If you still haven't seen The Feels, a show about a bi man in touch with his many feelings, now would be a great time to start. Seasons one and two are on Youtube. Brooklyn Nine-Nine, Crazy Ex-Girlfriend, and Madam Secretary are all bi-friendly and available to stream. Already watched those? Check out the shows on my 2018 best-of bi character series: Crime and Mystery Solving Bi Characters, Bi Characters in Drama TV, Bi Parent Characters on TV, Sci Fi and Fantasy Bis, and Bi Characters In Comedy. Bi movies like Appropriate Behavior and Atomic Blonde are also available on streaming, along with so much of bi.org's The Unicorn Scale reviewed content.
CREATE. Find your happy place. Is it creative? The Art Sherpa has over 600 instructional painting videos on Youtube. Or! Get some colored pencils, and give coloring a try.
LISTEN. I created a bi+ playlist fresh for Fall, try it on!
READ. Your Holiday Mom publishes letters from loving mamas to you, every day throughout the holidays. Read the latest as well as letters from years past at yourholidaymom.com.
The holidays can be so many things, and I hope they are good to you. However you spend your holiday, it often comes back to that immense, omnipresent question. When your neighbor, coworker, kid's playmate's parent, when someone asks "So what are you doing for the holidays?" what can you say? According to Stanizai, it "depends on how close/invested you are with the person asking." Potential go-to scripts from Stanizai include: "I haven't decided yet."
"As you might know, going home isn't really a pleasant experience for me, so I'm thinking of what new traditions I can make for myself and my people."
"I'm doing my own thing this year! Feeling kind of XXXXX about it, and it feels good to be able to decide for myself."
Deciding whether or not to go home or stay home for the holidays can be challenging. As therapist Carla Rosinski says, "Sometimes it is an important act of self care to not go home." Wherever you are from now to 2019, I'm so glad you're here.
If you need to talk, contact:
The Trevor Project (LGBT Youth): 1-866-488-7386
National Suicide Prevention Lifeline: 1-800-273-8255
Trans Lifeline: 1-877-565-8860
National Sexual Assault Hotline (RAINN): 1-800-656-4673
National Domestic Violence Hotline: 1-800-799-7233 | 1-800-787-3224 (TTY)
Comments
Facebook Comments