The Bi Guide to Going Home for the Holidays
By SB Swartz
November 16, 2018
Share
So, you're going home for the holidays this year! Maybe you feel thrilled about it, maybe you feel a sense of dread. Maybe you're ambivalent! I'm here to tell you: all of these feelings are valid and ok! Being bi at the holidays can be complicated. Even if we are out to and embraced by our closest relatives, this time of year can mean being presented with the opportunity to be mis-seen, misunderstood. In this, you're not alone. I've gathered some resources and insights here. Let's take the next step together!
One approach to lowering potential internal discord is to consciously acknowledge your agency. "When the decision is made deliberately rather than out of fear or sadness, it can become empowering," says licensed therapist Sara Stanizai. Does it feel like you have to go home for the holidays? Probably yes. Obligation can be a trippy, tricky pull. But you decide whether or not you go. And this is not an all-or-nothing call—you can make a different choice next year.
It's not always safe to be out, and it's ok if you're not. But that doesn't mean it's not sometimes painful to not be seen. Most bi people in relationships are with partners of a different gender. This often means that we're assumed straight. It also raises the likelihood that a relative or family friend will attempt to "we're all in agreement here, right?" you with some queerphobic rhetoric (they're "just joking!" of course). Counteracting this hate speech can feel especially precarious when you're not out. The fear of being outed by the act of defending the basic human rights of queer people is real and valid. "People can feel like they have to choose between having a family and being themselves," according to Stanizai. "Some advice I have is to decide what's best for you: If you decide it's important to you to go home for the holidays, it doesn't make you any less queer or make you a 'traitor' to your queer community."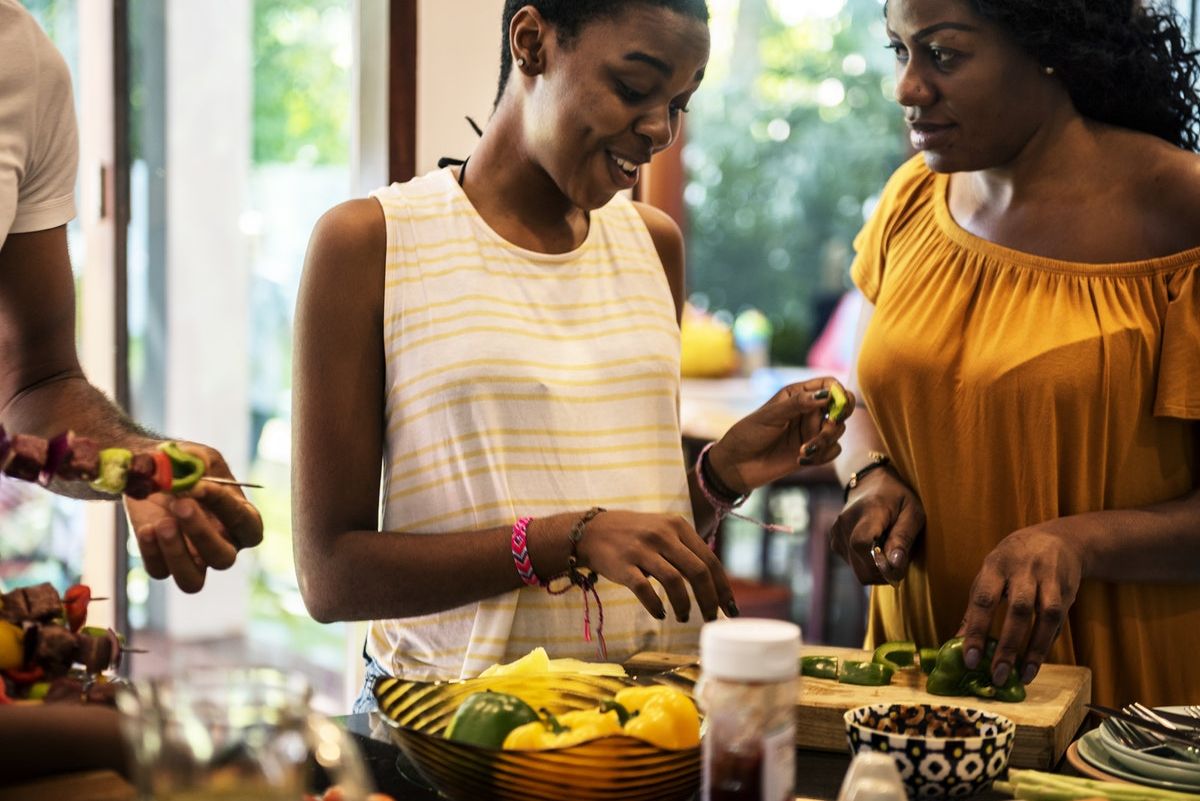 Times of year that focus on family gatherings can be particularly challenging for first generation children of those who have immigrated to the US. Stanizai shares that "for many people born and raised in the US when their parents were not, we struggle to figure out where we belong. This impacts our mental health, social circles, and what we share and don't share with others." In these situations, "Family expectations abound, not only in work/career choices, but when it comes to sexual orientation, gender identity, and whom we choose to partner with. Feelings of impostor syndrome, anxiety about the future, depression due to isolation and missing family support are present year round, and even more acute during the holidays."
Bi people can find it challenging to find community. We face discrimination and rejection in straight and LGBTQ spaces. Bi people are less likely to be out to our family and friends, drastically reducing our ability to find the places we can be our authentic selves. Humans are social beings, and isolation is painful. Choosing to stay closeted and maintain a relationship with a less-than-accepting family can be a method of survival. M.H. tells me "I am closeted with bio family: I leave all my queer paraphernalia behind and hope I don't slip anything into conversation."
Once you're on your way, you can choose your level of engagement. That may mean bringing a pair of headphones. Make sure you've got a bunch of mobile options to listen to. Your local library may have an app for audio books. Download them ahead of time so you don't have to worry about wifi. Netflix also has download capabilities. Podcasts can be a good bet. Dive into Why Won't You Date Me? with Nicole Byer. Byer is charming and fun and hosts lots of queer guests. She also talks about being open to dating more than one gender.
Your Holiday Mom is a loving oasis online. Daily letters to LGBTQ folks from caring, careful mamas are posted from late November through the end of the year, and links to prior years are available for you to comb through whenever you're in need of connection. It's ok to want to be seen for everything you are.
Take stock of your self care. Have you had water recently? Have you eaten? Have you considered doing something kind for yourself? You're fucking worth it. If you're in therapy, make sure you have what you need to get to your regular appointments. Throw a bonus session in there if you can. If you're going out of town and may have a confidential space, see if your therapist offers phone appointments. Check in with your therapist or a close friend about their availability for texting before, during, or after times that might bring stress. Even if you don't reach out, it might be a comfort to know the option is there. Think about planting a kindness for yourself when you get back from your travels: Create a care package with your favorite treats, set up an evening with some folks who make you laugh, set aside some shows you are looking forward to watching.
I hope you feel empowered by the knowledge you can choose. I hope you find what you need, even if it is not where you hoped you'd find it. This year feels like it began approximately a dinosaur's era ago, but we're almost there. You've got this! Just remember your headphones, and that every single part of you is worthy of love.
If you need to talk, contact:
The Trevor Project (LGBT Youth): 1-866-488-7386
National Suicide Prevention Lifeline: 1-800-273-8255
Trans Lifeline: 1-877-565-8860
National Sexual Assault Hotline (RAINN): 1-800-656-4673
National Domestic Violence Hotline: 1-800-799-7233 | 1-800-787-3224 (TTY)
Comments
Facebook Comments